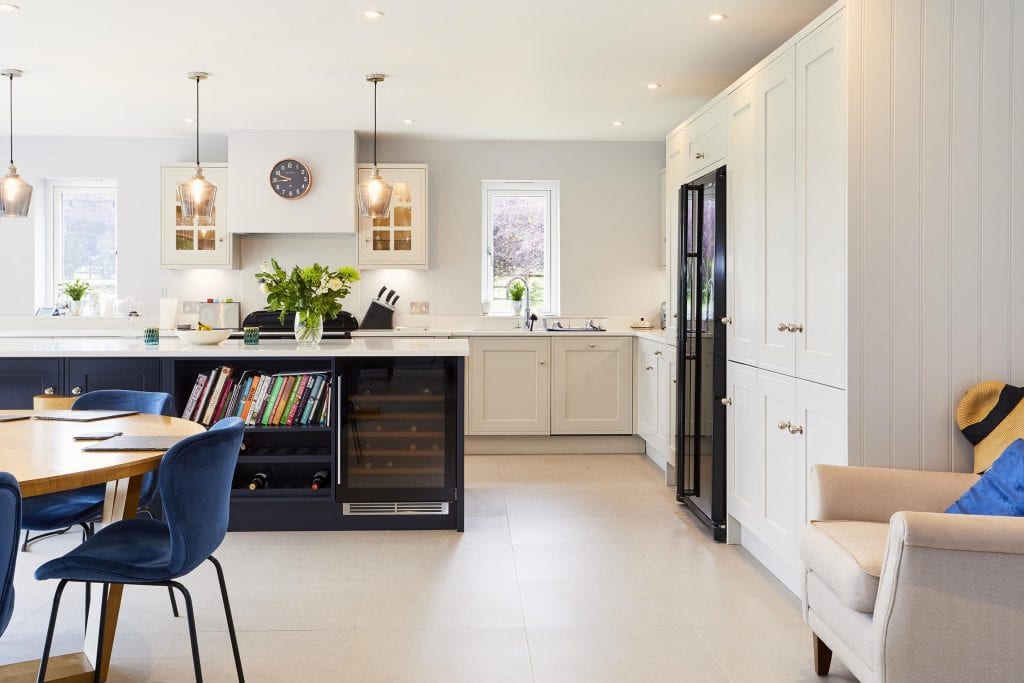 As you're probably well aware, over the years, many design trends come and go. Often, what was popular one year will be replaced with different trends the next and it can be difficult to keep up with what's new in the world of interior design. Thankfully, many of the latest trends are easily adaptable and with the right knowledge and know-how, you can use these design trends to create a timeless space that you love. 
Whilst some design trends will run throughout the whole home, there are others that are specific to a room. So, to help any homeowners looking to stay up-to-date in this regard, below our team here at Ashford Kitchens & Interiors a list of 2020 luxury kitchen design trends. When wanting to revamp the heart of your home, you can use these to create a beautiful space that isn't just on-trend but that you will love for many years to come too. 
Contrasting worktops
Both the material and the colour of worktop now tend to be contrasting with the kitchen cabinets. Whether you have high gloss cupboards with natural wood worktops or wooden cupboards with granite worktops, this contrast adds depth to the design. With many contrasting options to choose from, this trend will never limit your design possibilities. 
Double kitchen islands 
Kitchen islands have been a key feature in modern kitchen design for a few years now, but they aren't going anywhere. This year, as large open plan spaces become more popular, many are opting for double kitchen islands. One island will be used for meal preparation and the other for seating and socialising, many will link the two with a unique worktop too. 
Living room furnishings 
For those who have bigger floor spaces to play with, bringing living room furnishings into the kitchen is a trend that is being embraced by many this year. Homeowners are choosing to add a sofa into the space in addition to any bar stools or dining chairs. This makes the room multi-purpose and brilliant for socialising.  
Stylish appliances 
Not only do kitchen appliances need to be convenient and functional but for 2020, their appearance is more important than ever before too. When creating a luxury kitchen design, everything from the kitchen tap to the hood of the hob will make a design statement. This trend highlights your appliances, so you don't have to hide them away. 
Dramatic statement lighting 
We have seen statement pendant lighting used in kitchens for a couple of years now and again, this is a trend that has only got bigger in 2020. Many are using low hanging lighting over their kitchen island or their dining table and they have become a real feature in luxury kitchen design. There are so many incredible pendant lights to choose from nowadays too. 
Effective discrete storage 
The kitchen has always been full of storage solutions, yet this year, convenient yet concealed storage seems to be the most popular. Many are specifically designing the insides of the kitchen cabinets to ensure that they're able to meet their storage needs. Closing the door on your kitchen essentials helps to keep the space clutter-free and minimalistic. 
Darker contrasting colours
A neutral colour scheme is incredibly popular amongst homeowners and many choose for this to run throughout their whole home, however, we are seeing some colour return to the kitchen. This year, navy blues, forest greens and dark greys are becoming popular and many are accessorising with blacks too. Although, light flooring and ceilings do remain the go-to. 
Re-designing your kitchen 
There is no denying that there are some amazing luxury kitchen design trends this year and whilst some won't stand the test of time, it is likely that many of the things mentioned above will be seen in kitchens for many years now. So, when redesigning your kitchen, be sure to consider the trends mentioned above and whether they will work for your home. You may find that they can provide the finishing touches you were looking for. 
If you need any assistance with kitchen design in Weybridge and surrounding areas, our team here at Ashford Kitchens & Interiors are the perfect people to reach out to. We have been designing bespoke kitchens for many years now and you can guarantee that not only do we know the best ways to incorporate the latest trends into our design, but we will always ensure that the design is perfect for you and your home too. If you'd like to speak to a member of our team, don't hesitate to contact us today or pop into one of our showrooms.