What was the space like before?
The kitchen area was very dark with oak cabinets, black worktops and splashback. The island was small not leaving much space to sit at or for food preparation. It was a dated look that needed updating, not only to modernise the kitchen visually but to make it more practical for a family.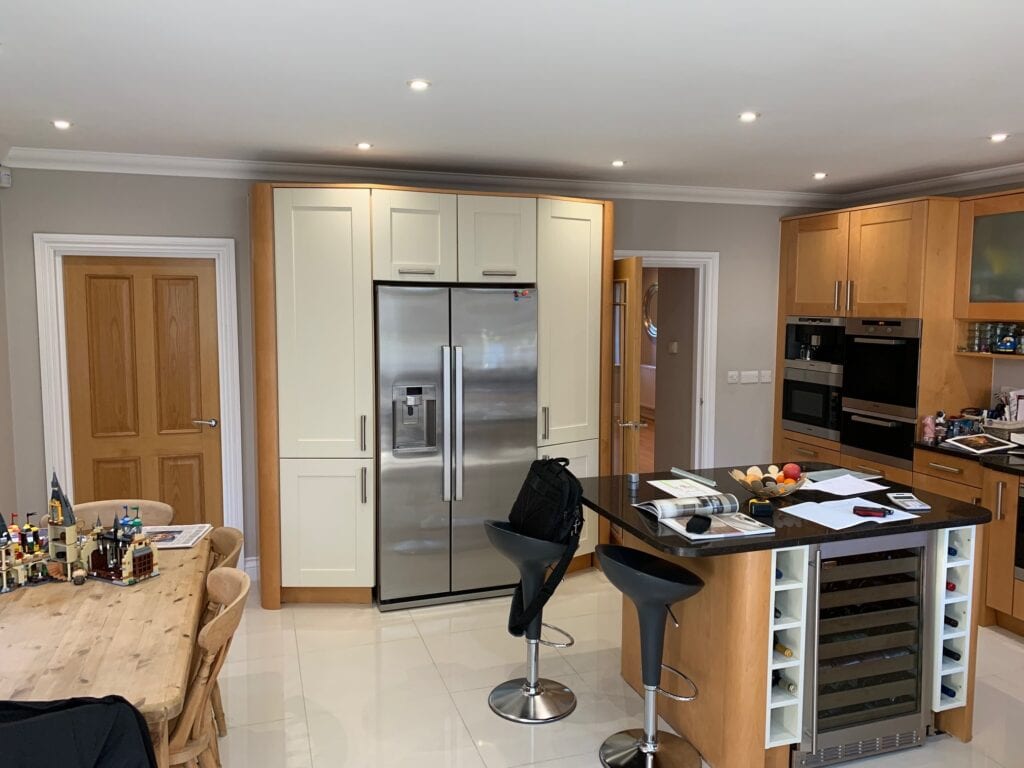 What was the vision for the new kitchen?
Our client asked us to handle every aspect of the project which included removal of structural walls, underfloor heating, floor tiling, feature lighting and so much more! Their main aim was to update their shaker style kitchen with a contemporary design and increase storage and worktop space. 
It can be difficult to visualise your new kitchen especially when going from something very traditional to ultra-modern, our CAD software made it very easy for the family to see how their new kitchen would look. They loved the idea of a breakfast bar at the end of the island as it provides them with somewhere to socialise whilst cooking but not compromising on worktop space for food preparation.

How did you choose the appliances?
We installed two Neff Slide & Hide Ovens both with the self-cleaning pyrolytic function, as a young family they did not want to be spending a lot of time on cleaning. We paired these with a Compact Oven with added steam and a Compact Oven with microwave. To keep with the modern sleek look of the rest of the kitchen we installed a ceiling extractor which offers great feature lighting over the island and links seamlessly with the 90cm Neff flex induction hob. We included a full height Fridge and full height Freezer at either ends of the wall run, providing ample space for a growing family and entertaining guests.  
What makes this kitchen such a success?
Our client wanted a feel of openness and space. Going for the neutral tones and white gloss cabinets, it created a light, bright feel. The reflection of the white gloss doors added to this making the room seem bigger. 
Adding in the bright LED spot lights again lights up the room and the client added three modern pendants creating a feature but still keeping in with the neutral tones of design.
Following the installation of their kitchen, we invited a Neff Home Economist to visit their home to demonstrate how to get the most out of their new appliances with practical ideas. The couple found this very useful and has given them the confidence and enthusiasm to try new recipes and functions.