Today's kitchens are often the heart of the home. Whether you desire an open-plan family space for family dining and entertaining, or a sleek, minimalist workspace for some serious cooking, careful planning is required to ensure a kitchen is both beautiful and highly functional. Here we share the latest trends to help your kitchen achieve style and substance.
Bold Splashbacks
Glass splashbacks are fast becoming the 'wallpaper' of kitchens. There is a huge choice of colours and printed options available meaning you can have whatever pattern, or even a photograph, to really make a design statement.
Not only do they look good, but they reflect light, are really easy to keep clean and are made from toughened glass, making them an ideal option behind the hob. The best thing about glass splashbacks is that you don't need a large area to make an impact. Just one small section behind your hob can be all it takes to complete your kitchen.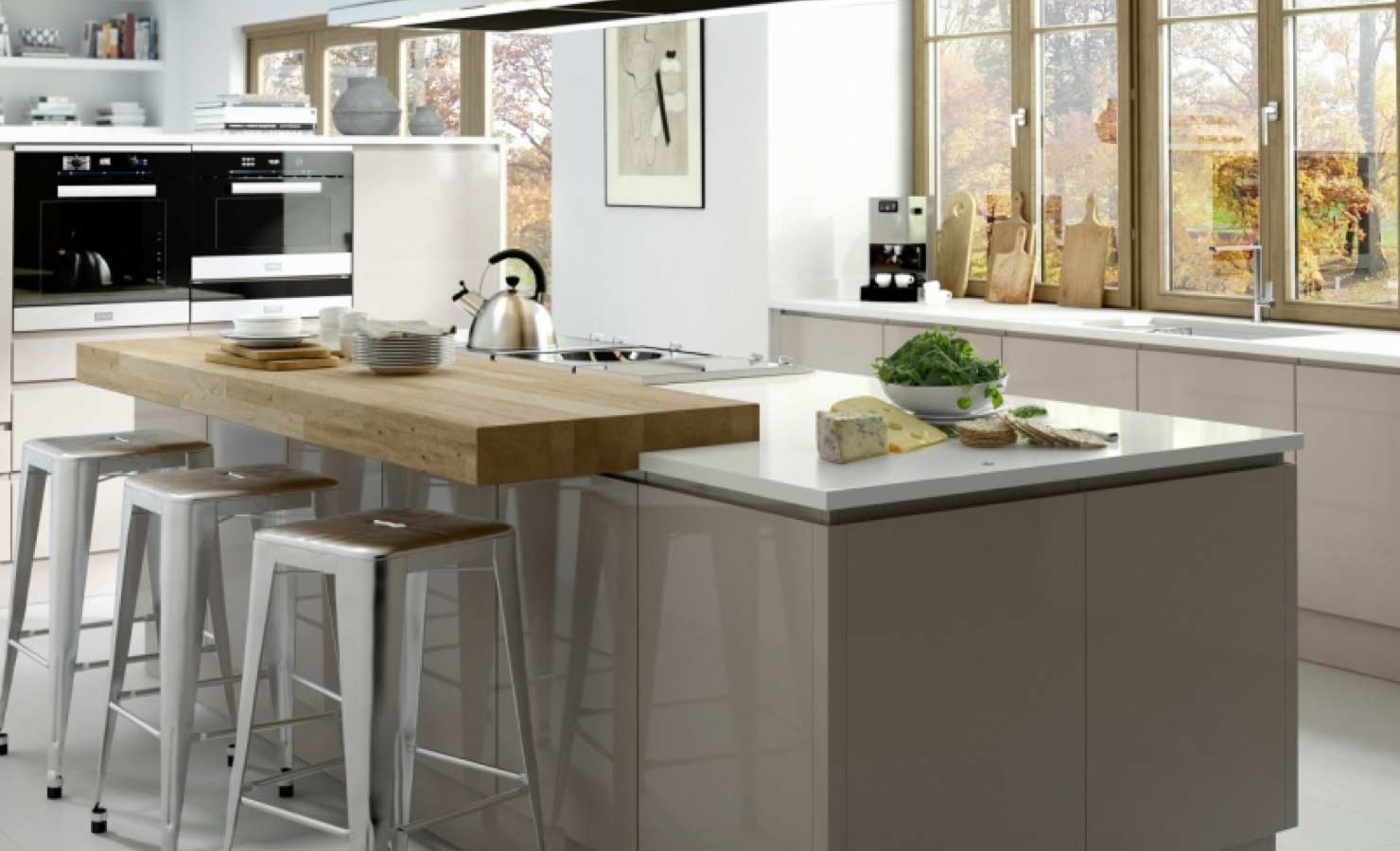 Handleless kitchens
If you're seeking a modern, minimalist look for your new kitchen then perhaps a handleless door style would be the perfect choice for you. We suggest three options to achieve this.
The Inset Kitchen – The principle of the inset door style is that doors and drawers are fitted with a cup on the reverse of the door front allowing them to be opened without the need for a protruding handle. This ensures a minimalist approach whilst maintaining soft close actions on doors and drawers.
The Touch Kitchen – Using a catch mechanism, touch system doors and drawers are opened simply by touch, creating a simple and stylish look. Often this system is combined with inset or other handled kitchens as its simplicity complements other styles.
The In-Line Kitchen – The third handleless option, and by far the most popular. This door features an integrated 'J-pull' handle – called J-Pull due to the profile of the groove. Our In line door has been designed to be deeper than other versions of this door to provide more grip.
Interiors
Improving accessibility to cupboards, using one the many available internal mechanisms, greatly increases storage. Here are some of our favourite trending storage solutions.
Walk in corner larders – The perfect solution when negotiating a kitchen design around a difficult-to-access corner. Walk-in larders feature an abundance of accessible storage, including the potential for a full-height wine rack.
Pan Drawers – These deep drawers make accessing your pans, crockery, food, utensils and just about everything else a breeze. These drawers can hold up to 40kg and glide effortlessly to reveal exactly what you need. No more rooting around at the back of the cupboard!
A place for everything – Bespoke integrated cutlery trays and dividers now come with metal covers to store those pesky cling film and kitchen foil rolls. They can have handy spice jars that fit perfectly and knife blocks that are safely concealed. Removable oak storage boxes keep food packets and boxes organised.