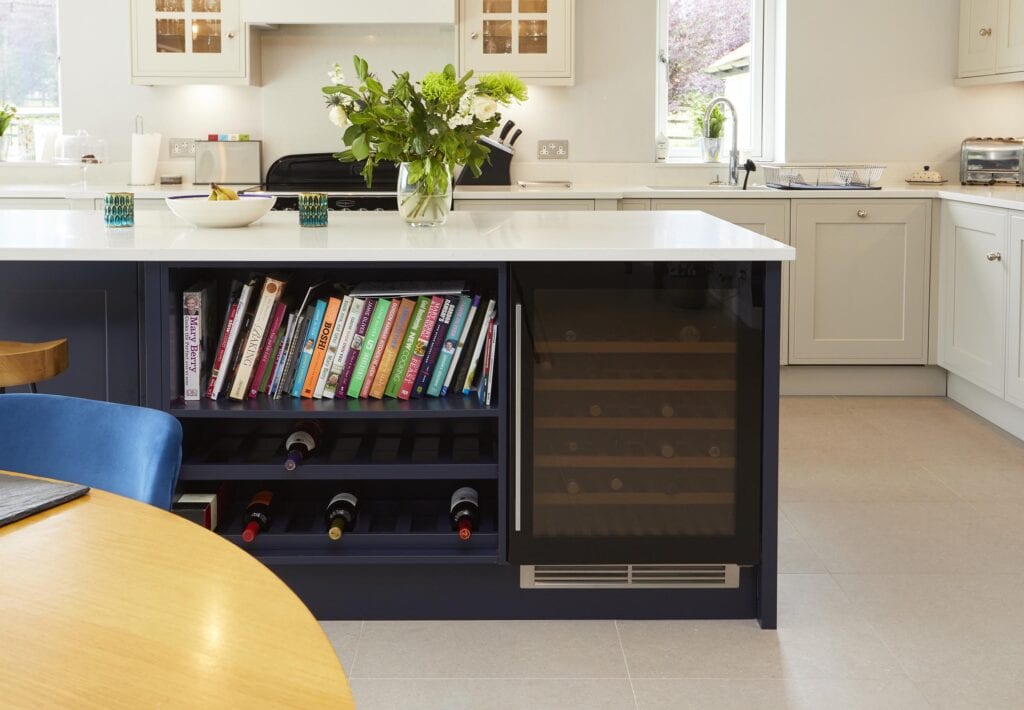 It is fair to say that the kitchen is one of the busiest rooms in the house, hence why it is commonly referred to as the heart of the home. It is no longer just somewhere that you cook and bake, it is also a socialising space too and this means that it is essential that this room isn't just convenient but that it looks amazing too. For this reason, when you're planning a kitchen revamp, it is so important to think about how you can keep your kitchen clutter-free. 
You'll probably agree that having a tidy kitchen is a must for homeowners nowadays and ensuring that everything has a home is more important than ever before. Having good storage solutions in a kitchen is essential and with so many different items in need of somewhere to live, it is beneficial to have a range of different solutions all in this one space. If you're currently working on a bespoke kitchen design and you're struggling to think of effective storage solutions, our team of kitchen experts have put together a list of helpful storage ideas for you. 
Different cabinet interiors
Of course, the most obvious type of storage that is used in all kitchen design is cabinets and these will provide you with the majority of the storage space that you need. When designing these cabinets, think about their interiors and change these depending on what is going to be stored in them. Take a look at the interior fittings available and choose what's best for you.
Open shelving 
Many homeowners shy away from open shelving, but it can be brilliant in the kitchen. Storing things such as clear jars of pasta and rice or glasses and decanters on these shelves can free up space in your cabinets whilst still being aesthetically pleasing. Whilst you won't want to store all of your kitchen essentials on open shelving, for specific bits and bobs they are a great idea.
Under island storage 
If you have an island then all kitchen experts would recommend that you add storage beneath the worktop of this. Whether you have more cabinets or some deep draws, it is the perfect place for additional storage space. Depending on what you're going to use your island for, it may make sense to keep certain items here, so why not specifically design the storage for these?
Make use of the wall space 
There are lots of items that would traditionally go into a drawer that can actually be kept elsewhere. For example, add magnetic strips on the wall for your knives and little hooks for other utensils. These work really well underneath your cabinets and can also help to fill empty space. So, consider whether it is something that could work in your kitchen design. 
Freestanding storage units 
Whilst your kitchen cabinets will be fitted, you always have the option to have additional freestanding storage away from these too. Kitchen experts will be able to create you additional pieces that perfectly complement the rest of your kitchen. Whether this is a small trolley or a bigger pantry style cupboard, it can be a brilliant storage idea.  
Multiple sized racks 
From spice racks to wine racks, you will be able to store so many kitchen items in different sized racks. This storage solution can be kept behind a closed cabinet door or built into your kitchen so that it's on display, so you can choose which option will be best for your home. You will be surprised just how much can be stored in these different racks. 
Creating a perfect kitchen design 
Hopefully, our kitchen experts' storage ideas will help you to ensure that your kitchen design has adequate storage. You can guarantee that you will thank yourself for spending some time looking solely at storage solutions and we can assure you that it is always worthwhile doing. If you have any questions at all or you would like to speak to our kitchen experts about your bespoke kitchen design in more detail, don't hesitate to contact us today. 
Here at Ashford Kitchens & Interiors, we will gladly provide you with a free kitchen design visit whereby our talented team will come to your property to discuss your requirements in more detail. It goes without saying that this can be incredibly beneficial for anyone who is wanting to revamp their kitchen and we would always recommend that you make the most of this free design home visit. To arrange this, simply pop into one of our showrooms for an initial chat and we will get your free kitchen design visit into the diary.