Kitchen projects are incredibly exciting and transforming the heart of your home into somewhere you love to spend time is always worthwhile doing. However, when they first start to work on a new kitchen design, many homeowners find that there is something missing and the kitchen isn't as elegant and luxurious as they'd hoped it would be. 
Thankfully, there are lots of ways that you can take your kitchen design from simple to sophisticated and a few small changes can make such a huge difference. So, to help any homeowners who are struggling to create a luxury kitchen design for their home, below we have put together a list of interior design ideas that will help you to create a new kitchen that is everything you hoped it would be and more. 
Build your appliances into your cabinetry 
Whilst a kitchen needs to be functional, if you want to achieve a luxurious look, you need to get the balance right between this and style. A simple way to take the focus off the functional side of your kitchen is to build your appliances into your cabinetry. This will help to make your appliances feel like part of your kitchen design rather than just your kitchen essentials.
Upgrade to smart appliances
The appliances that you choose for your new kitchen will also influence the way it looks, and if you're able to, it is worth spending a little bit more on some smart appliances. For example, installing a boiling water tap won't only prevent the need for a kettle, freeing up workspace and helping to create a minimalist feel in your kitchen, but it will save you both time and hassle too. 
Incorporate a splashback 
Instead of simply painting the wall space in between your worktops and upper cabinets, consider adding a splashback to your design. Some of the materials available for splashbacks have an air of luxury about them and they will instantly elevate your design. Experiment with a few different materials and finishes until you find something that works for your luxury kitchen.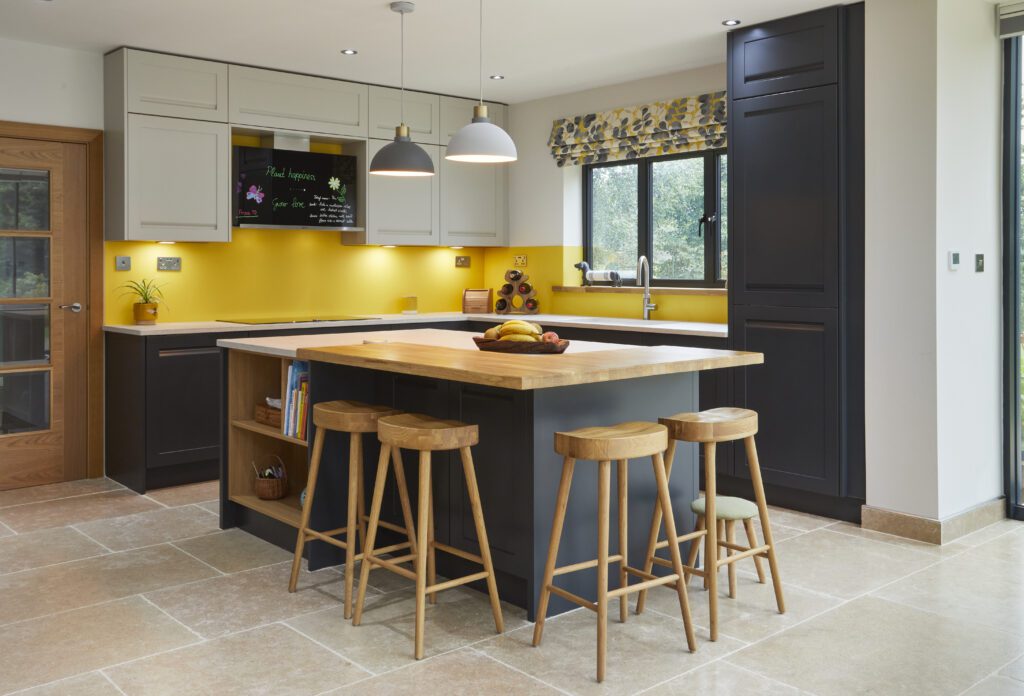 Make your kitchen island more visually appealing
Commonly, kitchen islands are installed because they provide additional worktop and storage space, not to mention they double-up as a table. However, to make your kitchen more luxurious, you should turn your island into more of a feature. Consider trying a two-tone colour scheme or hanging pendant lights to make your island stand out for all of the right reasons. 
Use a variety of different shades of one colour 
It is so important to get the colour scheme right in your new kitchen and if you're aiming for a luxury look and feel, you should try using various shades of one colour. Whether you're wanting to use blues or neutral tones, for example, incorporating more than one shade can add depth and texture to your design without being too overwhelming. 
Don't shy away from dark colours 
So many homeowners use light colour schemes in their kitchen and this is a safe option to prevent the space from seeming smaller than it is. Yet, if you have a large kitchen, there is nothing stopping you from using darker colours in your design. You don't have to use black, but dark greys, greens and blues can work really well and rich colours tend to feel more luxurious. 
Pay attention to the small details 
Even though they're easy to overlook, the small details and finishing touches are so important when you're designing a luxury kitchen. Spend some time thinking about the material, colour and shape of your cabinet handles, for example, and ensure that no part of the design is hindering the luxurious feel that you're trying to create. 
Designing a luxury kitchen in Esher
When you're wanting to make your kitchen design look and feel more luxurious, hopefully, the ideas above will come in handy and they can help you to transform a basic design into something breathtaking. You will likely be surprised by just how much of a difference each of these elements can make to the overall design, so play around with some of these luxury ideas to discover what works best for your new kitchen.
If you'd like to work with an expert designer on your kitchen project, be sure to get in touch with our team here at Ashford Kitchens & Interiors. We can help you from start to finish with your bespoke design and we are known for creating luxury kitchens in Esher, and the surrounding areas. We pride ourselves on designing high-quality kitchens that are both stylish and functional, and our comprehensive design service can make bringing your dream kitchen to life incredibly easy. We look forward to helping you with your luxury kitchen in Esher. 
Call our Ashford showroom on 01784 245964 or our Farnham Common showroom on 01753 642362 today to start your new kitchen journey.