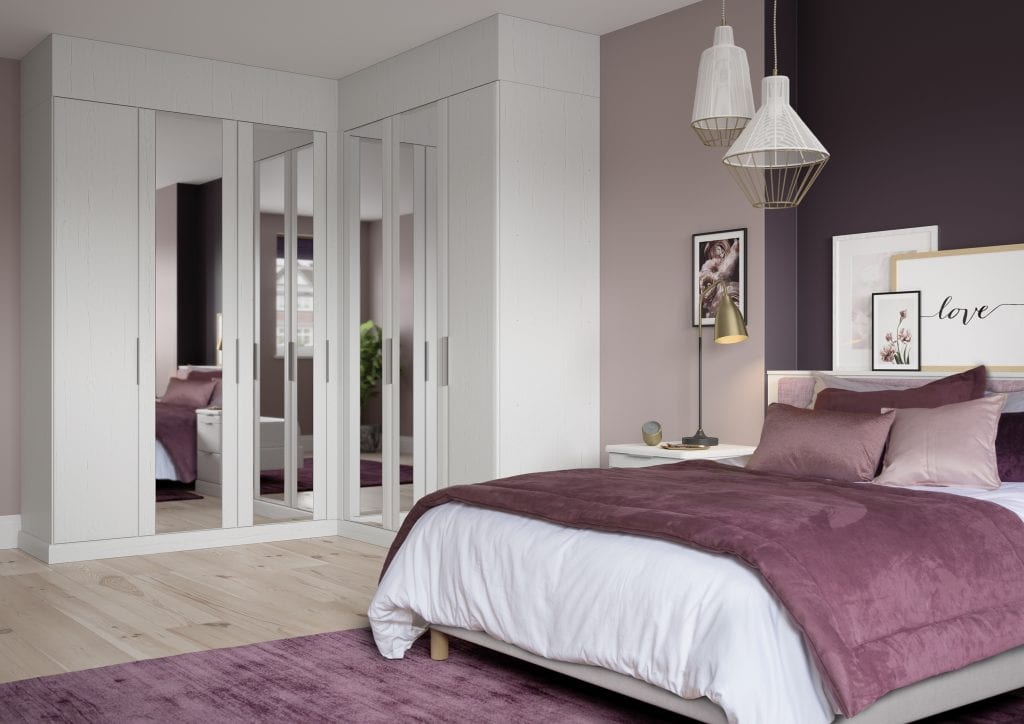 If you are looking to rejuvenate your bedroom space, you may be looking to purchase some new furniture. When choosing new furniture for your home, you have 2 options: bespoke, fitted furniture or freestanding, off-the-shelf furniture. No matter whether you're moving into a new house, or redesigning a room in your current home, it is important to take into consideration the space available to you. If you haven't considered the benefits of installing contemporary fitted bedroom furniture in your home, we believe that it is really something you should think about. 
What is fitted furniture? 
As are the go-to fitted furniture specialists in Middlesex and Buckinghamshire, we completely appreciate how your bedroom is supposed to be the place where you can stress and unwind from day to day life. However, clutter in your bedroom can pose a problem, especially if you have a small space. It is important to utilise the available space in the most efficient way possible, which is when fitted furniture – especially wardrobes – are the perfect choice. But what are some of the benefits of fitted furniture? 
One of the problems many people face when renovating their room is the fact that these spaces are not often conventional, rectangular shapes. This can make it difficult to fit in standardised, mass-made furnishings. However, fitted bedroom furniture can be custom designed for your specific needs, crafted to accommodate any shape and space you require. They are available in sizes and finishes, measured to fit perfectly and you can maximise the floor space you have. It does not matter whether you have low ceilings or a sloping roof, your furniture will be designed and tailored entirely to your room specification.
With a fitted wardrobe you can add additional cupboards, drawers, shelves, compartments, racks, and hangers to create your own flexible, unique space. You can improve the style of your room, seamlessly integrating storage solutions whilst avoiding the overpowering look of stand-alone units. The customising options are truly limitless, the perfect space-saving way of keeping your belongings tidy and organised. 
Full range of designs and finishes
As much as the inside of your fitted wardrobes can be customised, so can the exterior design. You can choose for a range of designs, styles, and finishes which can directly complement the design and theme of your home. For example, if your preferred style is contemporary fitted bedroom furniture, you should take a look at high-gloss or mirrored surfaces with sliding doors. This will provide an ultra-modern look that is distinctive, smoothly integrating into the design of your room, creating a stress-free way to store and organise your belongings. 
With countless mirrored, colour and wood finished options to choose from, your wardrobe will suit your own personal style for years to come. Fitted wardrobes are a very tangible investment in your home, especially because they are made from highly durable materials, giving you the confidence that your piece will stand up to the test of time. It is guaranteed that your new bedroom furniture will become one of your favourite elements of your home and bring you many years of enjoyment.
Would you like to purchase a bespoke fitted wardrobe?
Being founded back in 1984 by Richard & Tracey Flower, as a business, we can help you visualise your dream bedroom, ensuring it suits your requirements exactly. Ashford Kitchens & Interiors are here to help you, giving you the chance to work alongside our devoted and knowledgeable team. We have an exceptional reputation for our customer support and reliability, which we hold great pride in sustaining with each of the clients we work with. 
Would you like to have a conversation with a member of our team, regarding the contemporary fitted bedroom furniture we have available? Feel free to give us a call on 01784 245964 to organise a free design visit and consultation. On the other hand, you can also complete our contact form and our staff will get in touch to discuss how we can best meet your requirement