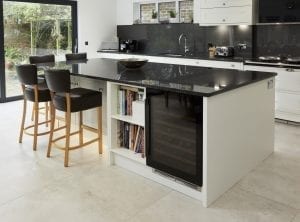 If you're a regular reader of our blog, you will be familiar with our frequent emphasis on the kitchen's evolution and its vital role within the house. We spend more time here than in any other room and it's where we carry out our most important activities. Over the last few decades, kitchens have taken on new social responsibilities. They are now often multifunctional places and, as such, places that we pride ourselves on.
Though we may all wish for a huge open-plan kitchen with a kitchen island and all the kitchen storage space our hearts desire, that is rarely what we have at our disposal. As a room frequently used for so many essential purposes, and with so many different items and appliances on standby, keeping the kitchen clean and comfortable can often feel like an impossible task — particularly impossible if you're living in a city flat and working with a small kitchen or restrictions.
Here, we offer up some kitchen design tricks and our expert insight into optimising your kitchen so that it looks and feels more organised and spacious. From new-age storage solutions to shelving and cabinet doors, we cover it all in this kitchen design guide!
Kitchen Colour Schemes and Perception Tricks
The art of making a kitchen feel bigger and more spacious begins with customising your initial surroundings. It is important to imagine your kitchen space completely empty and begin from there, working only with the basic dimensions. Colours, of course, have an enormous impact on our perception. They dictate how we perceive the shape and ambience of a space. For this reason, kitchen colour schemes frequently use bright, neutral colours like whites and greys, and pastel shades.
A kitchen shouldn't have too many varying shades. A kitchen with one predominant light colour, or a few of a similar shade, will feel open and expansive. Neutral colours don't clash with each other but blend together, erasing visual boundaries and making a space feel bigger and less enclosing. Your kitchen's walls will appear wider and ceilings will appear higher if painted a light colour, but they will also reflect light and give the illusion of space.
On the other hand, too many colours will contrast with one another and jump out at you. The abrupt changes in colour mean that your eyes trip over the sudden changes in the kitchen design, making you more aware of edges and spacial restrictions.
It is also important to think of the patterns and designs that surround your kitchen. Backsplashes, for example, can have a surprisingly big effect on your kitchen's feel. Simple shapes and patterns are easier to perceive. If you imagine medium-sized stacked tiles as a kitchen backsplash, they are going to be easy for the eye to take in, meaning that you have an immediate and reliable idea of the surrounding space.
Equally, if your backsplash is diagonal or a slightly more elaborate pattern, there is no perfectly straight line for measurement and it can lend the impression that a kitchen is bigger than it is.
Kitchen Lighting and Illumination Ideas
There is no point in a well-organised kitchen if it is lacking sufficient light. A well-lit small kitchen can look more comfortable and welcoming than a huge kitchen if it is poorly illuminated and allows darkness and shadows to creep into crooks and corners. Make sure light floods every corner of the room, but do this with effective and efficient lighting, not an abundance of different outlets. In practice, this means harmonising a primary electric light source with one or more fully exploited natural light sources.
Natural lighting is vital. It makes you feel connected to the outside and makes the room feel freer. You might not have the French windows or sliding door that your dream kitchen would have, but you can make the most of any windows you do have by removing obstacles and making them the centrepiece. Try to remove anything on the windowsill — especially if it's blocking the light. If necessary, opt for blinds that roll up neatly and can be held out of the way.
Reflective surfaces are essential for taking full advantage of natural light. You may think that a kitchen is an odd place for a mirror, but mirrors are incredibly effective at bouncing natural light around a room so that it reaches those dark corners and boosts the general feel of the kitchen. Glass cabinetry has the same effect and makes the room feel more spacious.
Along with natural light, a good overall electric lighting system is a necessity for those late nights spent cooking. Ceiling lighting systems like recessed LED lights or track lights provide optimum illumination in the centre of your kitchen. If they are controlled by a rotary switch, your kitchen lighting can be altered in a second to adapt to different moods and purposes.
There are, however, still places that light may not reach. Under-the-counter lighting means that every nook and cranny of your kitchen is well-illuminated, leaving no shadowy areas and, vitally, providing the perfect countertop lighting for cooking and preparing meals.
Kitchen Installations and Storage Solutions
For the kitchen to look spacious and clean, lighting may be essential, but it is all for nothing if all it does is put dirty, cluttered countertops in the spotlight. Modern and sleek design is epitomised by clean and spacious countertops. There is no doubt that empty countertops make a small kitchen feel bigger, but it's not always practical to keep them free of clutter while also having your necessary items where they need to be.
There are an abundance of modern kitchen installations and effective storage solutions available that help keep things organised, but optimising your kitchen with the right solutions can be a tricky task. You want your kitchen to be a smoothly functioning workspace, but you don't want to overdo it with too much furniture and too many appliances. It is all about getting it right by utilising the most efficient appliances and solutions so that your kitchen works like clockwork.
Take, for example, the pull-out bin. This is a no-brainer for modern kitchen design. The bin tucks away behind closed doors and is out of site, freeing your floor of an unnecessary obstacle, making your kitchen feel bigger and also eliminating visible uncleanliness. The bin is still in the heart of the kitchen and in an easily accessible place, but it makes the room all the more hygienic and spacious.
Another fantastic space-saving storage solution is the carousel unit. Pots and pans take up a ridiculously unnecessary amount of kitchen space. Entire kitchen cupboards can be filled head to toe with awkwardly shaped pots and pans. Carousel units allow these to fit into a cupboard and spin round at the flick of a wrist so that you can organise all of your pots, pans and other large utensils in one place while having them at arm's reach. It definitely puts an end to the dreaded rummaging into the back of the cupboard.
Your kitchen can feel bigger by investing in effective storage solutions and the latest gadgets, but it's also about working with what you've got. Think about how your cabinets and shelves can be altered. It might be that your cabinets have space for another shelf or that there is space in your kitchen to move the microwave from the countertop and have it built into the cabinetry. You could also remove the need for a kettle and untidy cord by investing in a cost-effective Quooker kitchen tap.
Open shelves and glass-doored cabinets are brilliant at expanding a room. It might feel like only a fraction of extra space, but it definitely opens up your kitchen and stops head-high cupboards from feeling enclosing. Glass cabinets are shiny and reflective — like mirrors, they bounce light around the kitchen, opening up small spaces and giving the impression of more space.
Ashford Kitchens & Interiors are kitchen design experts who have been carrying out kitchen, bedroom and office installations for over 35 years. Take a look at some of our kitchen design ideas and testimonials or get in touch to arrange a visit at one of our Ashford showrooms. Call 01784 245964 for our Middlesex showroom or 01753 642362 for our Farnham showroom.