With more people now working from home, it's becoming more common for properties to have home offices. It's important to have a good workspace when you work remotely as it can be so easy to get distracted by the home life around you, and this can have an impact on your productivity. Creating your own home office can motivate you to do your best work and help to improve your overall performance. 
Our team at Ashford Kitchens & Interiors has put together a post with a few tips on how you can design your home office to enhance productivity. We specialise in designing and installing bespoke rooms in the home, from kitchens to home offices and bedrooms, and we know the best ways to transform your space. To learn more, read on and for further information about our fitted homes offices – head over to our website. 
Utilise Storage Space
One of the best ways to enhance productivity when you're working from home is to ensure you have plenty of storage space. Utilising storage solutions can help you to stay organised and keep your workspace tidy. A messy workspace can negatively affect the quantity and quality of your work, and be very distracting. Not to mention, it can be difficult to find the essentials you need throughout the day, resulting in tasks taking much longer than they should. 
To keep your work essentials tidy and organised, you need to ensure you have enough storage solutions in your home office. Whether you have cupboards, bookcases, drawers, shelves or storage boxes, for example, make sure there is space to store everything neatly out of the way. Explore the different home office collections available and make sure you're choosing the right solutions for the space you have, so you can properly focus and get stuck into your tasks.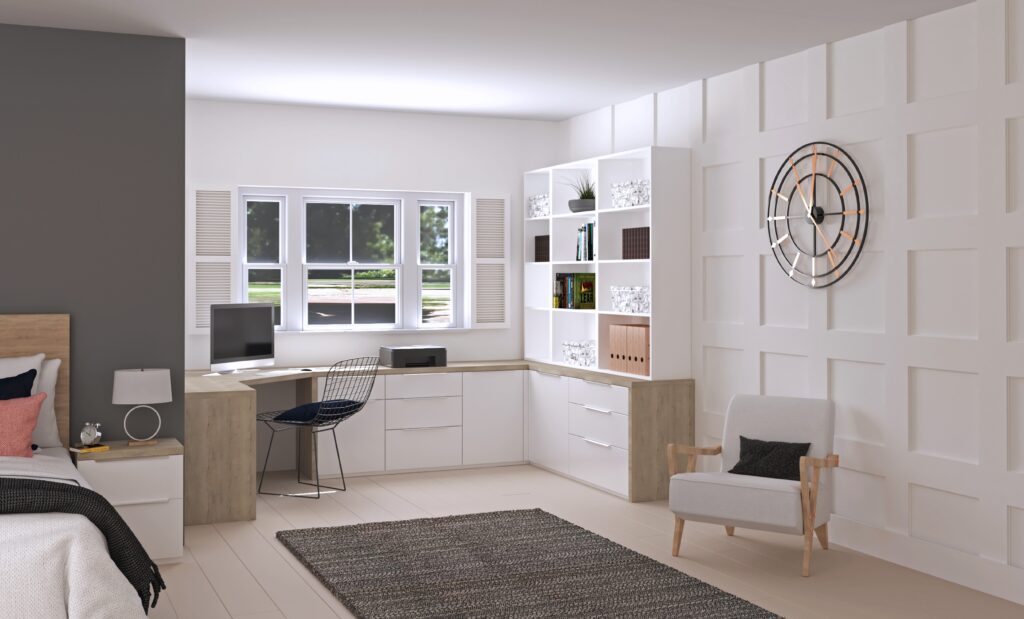 Prioritise Ergonomics
Ergonomics is an important factor to consider whenever you're designing a home office. An ergonomically designed space helps to ensure that you're comfortable and able to work efficiently from home. You should make sure the bespoke furniture you install is designed with ergonomics in mind to help reduce injuries caused by poor posture and awkward positioning. The right home office design can help to improve mental focus and creativity too. Not to mention reduce stress and fatigue, making you more productive.
When you're planning your home office design, make sure your desk is at a comfortable height, allowing your elbows to be at a 90-degree angle when typing on a keyboard. If your desk is too low or too high, it can cause neck and shoulder strain. Additionally, it is important to invest in a comfortable chair that supports your lower back and has adjustable armrests. 
Create an Inspiring Atmosphere
Another way to enhance your productivity when working from home is to ensure your workspace is inspiring. No one wants to work in a boring, clinical office space with no decor or accessories. Although minimalism is on-trend, there is a difference between creating a minimalist workspace and a lifeless workspace. Working in an uninspiring office can cause your productivity levels to fall and your home office should be somewhere you enjoy spending time. 
Throughout the design process, make sure you're carefully selecting the right colour scheme and choosing the best layout. Don't forget about the finishing touches too and consider which decor items you're going to use in the space, whether that be wallpaper, paintings, wall art or photography. These accessories can help to stimulate creativity whilst you're working, improving both productivity and innovation. 
Illuminate the Work Environment
It's important to make sure you have suitable lighting in your workspace. The lighting in your home office can have a huge impact on your motivation and productivity, as well as your overall well-being too. Making the most of natural light is always beneficial and it can help to improve your general mood. Not to mention, it can help you to stay alert and awake whilst you're working from home as well. 
The majority of home offices will also need artificial lighting. If your home office lacks natural light, you can incorporate other forms of lighting such as ambient lighting and task lighting. Using things like desk lamps can help you to better illuminate your surroundings, ensuring you can see what you're doing whilst working. Whether it's natural or artificial lighting, working in a well-lit space will help to boost your productivity levels and help you to feel energised. 
Looking to Enhance your Productivity with a Fitted Home Office?
We hope that this post put together by our team has taught you more about a few of the ways you can design your home office to enhance your productivity levels. If you'd like to take your productivity to the next level and upgrade your working space with a fitted home office, why not work with Ashford Kitchens & Interiors? 
We specialise in creating fitted home offices for homeowners, giving them the working environment they need to not only succeed but to thrive. Our experienced team will work with you to design fitted furniture that meets your needs, from unit height and worktop depth to easily accessible storage. We understand the importance of creating the perfect working environment, which is why we provide bespoke furniture. We have a vast selection of furniture collections to choose from, varying in styles and colours, so you can design the perfect pieces for your home office. From modern and minimalistic to classic and traditional fitted furniture – there is something to suit everyone.
Creating the Perfect Work Environment at Home
If you'd like to learn more about our fitted home offices at Ashford Kitchens & Interiors, you can contact us today. Simply complete our online contact form and a member of our team will be in touch with you shortly to discuss your requirements. Or if you'd prefer, you can visit one of our showrooms where our team will be more than happy to talk you through your home office needs. We can help you to design the perfect workspace for your home.