It's becoming more common for homeowners to integrate their appliances into their fitted kitchens and there are several benefits to doing so. A big part of renovating your kitchen is making sure that it meets your preferred style and you don't want to throw off the aesthetics of your kitchen with out-of-place appliances. This is why our team often recommends integrated appliances when designing new fitted kitchens in Surrey. 
If you're interested in installing a bespoke fitted kitchen and you're wondering which appliances you can have integrated into the space, keep reading today. Our expert team at Ashford kitchens & Interiors has listed some of the best built-in appliances that you can fully integrate into your kitchen cabinets, creating a visually appealing and seamless kitchen design. 
What are Built-In Appliances?
Built-in appliances are essentially appliances that can be built directly into your kitchen cabinets or work surfaces. They function in the same way as any other kitchen appliances but for the most part, they are invisible or at the very least, effortlessly blended into the design. Not only does this allow you to maintain your preferred aesthetic, but many of our customers have reported that integrated kitchen appliances tend to be quieter, allowing you to improve the ambience and environment in your home. 

Which Appliances Should you Integrate Into Your Kitchen?
There's such a huge range of appliances that can be integrated into your fitted kitchen nowadays, but some are more common or popular than others. Some of the appliances we frequently build into homeowners' kitchens include; 
Traditionally, ovens and hobs are combined into one appliance and they're installed together, but this isn't necessarily the best way to make the most of your kitchen space. Floor-standing all-in-one cooking appliances tend to be bulky, difficult to clean and inaccessible. Having to bend down to remove hot items from your oven can be dangerous too, particularly if you have small children in your household.
Choosing to integrate a separate oven into your kitchen design allows you to choose where's best for it to be installed. A popular trend at the moment is installing your ovens higher up in a cabinet column. Not only does this allow you to streamline your design, but it also makes your oven more convenient and much safer to use. You have the option of installing more than one oven into your fitted kitchen too, without worrying about how much floor space you have. 
Now that you've split up your traditional cooker, you have the freedom to put your hob wherever you want. There are several options to choose from and lots of homeowners are now installing their hob on their kitchen island, which is perfect for their 'working triangle'. Having your hob on your kitchen island frees up counter space elsewhere too. 
Beyond just the location of your hob, properly integrating this appliance into your fitted kitchen allows you to choose whichever type of hob you prefer. Not only can you choose between gas hobs, electric hobs and induction hobs, but there are other options available that can meet your unique cooking needs. Take the NEFF Domino hob, for example, this bespoke hob allows you to combine different cooking zones to create a hob that suits your cooking style. 
The only thing that sometimes restricts where you can install your hob is the location of your extractor fan hood. This is an important part of your kitchen as it helps to control the steam, fumes and odours produced while cooking. If you want an overhead extractor hood, you need to consider this when planning your kitchen layout, however, you can purchase venting hobs that have built in extraction as part of the hob. These are proving very popular at the moment!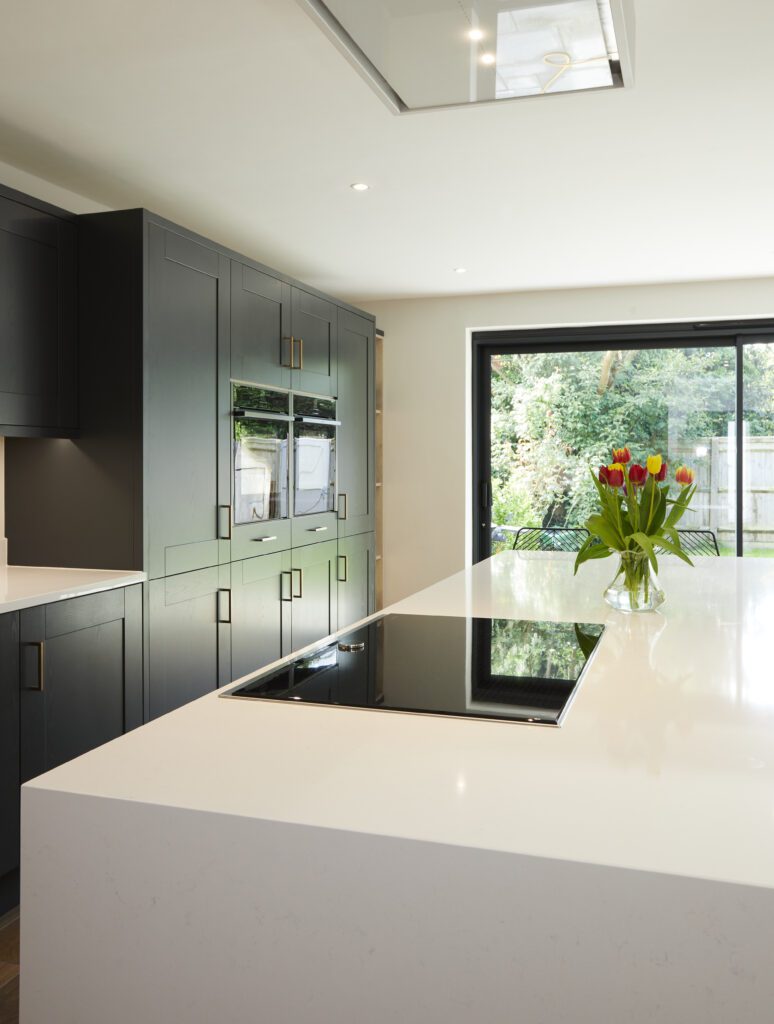 Deciding where you're going to put your microwave might be quite far down your list of priorities and it's often an afterthought during kitchen renovations. Yet, we would suggest integrating this appliance into your kitchen cabinets and making it part of your initial kitchen design. 
Even the smallest microwaves can take up a lot of space on your worktops, which can be inconvenient when you're trying to prepare food and need to spread things across the counter. Space is a vital commodity, even in larger kitchens, and integrating your microwave will give you one less thing to find room for on your worktop. Since they're so small and lightweight, you can integrate your microwave into almost any part of your kitchen design. This is something that you won't regret doing in the long term.
Try as we might, finding an aesthetic fridge to suit every kitchen style isn't always possible. Sure, there's a vast selection of fridge shapes, sizes and styles to choose from, but this appliance often stands out for all of the wrong reasons in a kitchen. If you don't want to be able to see your fridge and you're looking for a convenient way to hide it in your new kitchen design, integrating it into your cabinets is an ideal solution. 
There are plenty of options to explore when integrating your fridge and it's something our team of designers do all the time. We can help you find the perfect location for your fridge, ensuring that you don't compromise your working triangle. Once you've chosen the ideal location, we can create the perfect facade for your fridge and disguise it to look just like the rest of your cabinets. The result is a beautifully integrated fridge with no aesthetic concerns. 
For lots of busy households, a dishwasher is a must-have and thankfully, this is another appliance that you can integrate into your fitted kitchen. Dishwashers can make cleaning up after a meal much easier and prevent you from having to spend hours doing the dishes. There are several sizes to choose from when purchasing a dishwasher now too. 
Our team are experts at hiding this useful appliance in modern kitchen designs. We can recommend the best locations based on your chosen kitchen layout and install your dishwasher in the most convenient space. Putting your dishwasher behind a cabinet door can help to create a sleek, modern look and you won't have to compromise on how easy a dishwasher can make everyday life to enhance the aesthetics in your new kitchen. 
Design Your New Fitted Kitchen in Surrey
It's easy to see why integrated appliances have become so popular and we strongly advise that you consider incorporating them into your new kitchen design. If you would like to find out more about built-in appliances or you need some assistance designing a new fitted kitchen in Surrey, contact our team today. We can arrange for you to come and visit our showroom, where we can provide you with more information about the different appliance options available and show you some of our favourites. We can also answer any questions you may have about how your appliances can be easily integrated into your kitchen plans.