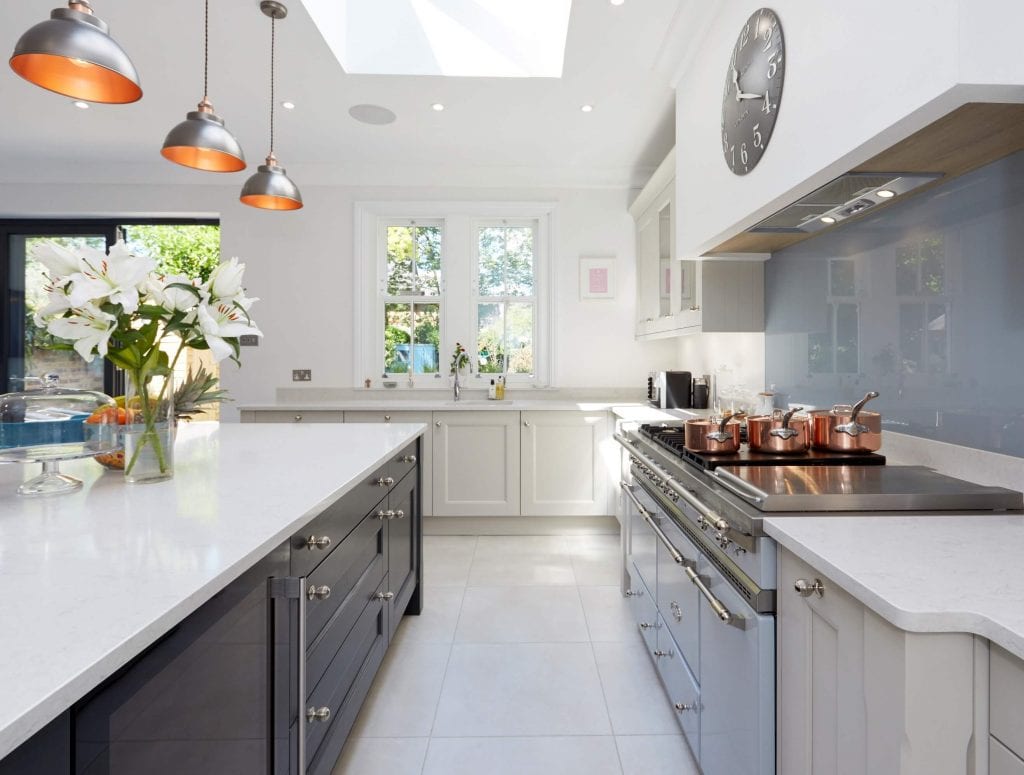 It goes without saying that for many, their kitchen is the heart of their home. It is the place where they spend time with their family and friends, whether it is breakfast in the morning or drinks in the evening. Due to the amount of time spent in the kitchen, many aim for it to be versatile and beautiful yet still functional, so when redesigning your kitchen, these are all things that you should take into consideration. 
The majority of homeowners will only redesign their kitchen once within their ownership of a property, and for this reason, it is essential that it meets all of their needs, both now and in the future. It is fair to say that it is highly unlikely that you will be able to find a standard kitchen design that is able to do this, and therefore, it is recommended that you look into a bespoke luxury kitchen design. There are numerous benefits to taking the time to create your very own unique kitchen and here are some that everyone should be aware of. 
Design your kitchen around your character and personality
A property is considered a 'home' once it reflects the personality of the owners. By opting for a bespoke luxury kitchen design, you can ensure that your kitchen is in line with the rest of your home and it shows off your personality perfectly. 
You will be able to design the space around what you enjoy doing in your kitchen and you have the freedom to make sure that your kitchen contains all of the features you need to make the most of the space. It will be a kitchen like no other that meets all of your needs. 
Everything will be made to measure and the perfect fit 
It is notoriously difficult to find kitchen cabinets and units that will fit perfectly into the space that is your kitchen. If your kitchen is a peculiar shape, or not a standard size, then you may experience issues trying to get a standard design to work in your space. 
When you have a bespoke luxury kitchen design every aspect of the kitchen will be made to measure. The design process is so in-depth that you can trust when it comes to the installation of your new kitchen, everything will slot into place with ease. 
Control every single aspect of the space and the design 
Whilst the majority of homeowners will have inspiration for their new kitchen, usually in the form of images of other peoples' kitchens, there will always be certain aspects of this inspiration that isn't quite right. But when you choose a bespoke kitchen design, this isn't an issue.
Whether you want a bespoke traditional country kitchen or a bespoke contemporary modern kitchen, you will be in control of every single aspect. Designing your own kitchen allows you to ensure that you're not left with anything that isn't exactly what you had hoped for. 
The craftsmanship and quality of the kitchen will be exemplary 
Often, even if you can find a standard kitchen design that meets most of your needs, it is likely that the quality of the products used to create the space will be inferior when compared to those used to create a bespoke luxury kitchen. 
When products are specifically designed and manufactured for your kitchen, you can trust that the craftsmanship will be exemplary. Everything will be built to last and superior-quality, so you can trust that you won't need to replace anything after only a few years of use. 
Creating a bespoke luxury kitchen design 
All in all, there is no denying that it is incredibly beneficial to create your own bespoke luxury kitchen design and you can guarantee that when doing so, you will love your kitchen for many years to come. 
If you're looking for a company that can assist you in designing your perfect kitchen, make sure you contact Ashford Kitchens & Interiors. Our team of experienced designers can help bring your dream bespoke kitchen to life, and you can trust that we will do all we can to ensure every aspect of the design is just as you had hoped. To speak to a member of the Ashford Kitchens & Interiors team about bespoke luxury kitchen design in more detail, please don't hesitate to get in touch today.