The process of visiting a showroom for any type of renovation can be a little bit overwhelming, but it's always beneficial. Showrooms can help to make both the design and installation processes so much easier. This is why our team at Ashford Kitchens & Interiors have opened two showrooms for our kitchen, home office and bedroom designs, and we are passionate about showing people the various design options available in person. 
Lots of homeowners who are renovating their bedrooms have found that visiting our bedroom showroom in Middlesex has inspired them and helped them to envisage what they want for their space. Bedroom design is so personal and it can be difficult to even know where to start. A bedroom showroom can help, especially when it's as well designed as ours are. 
If you're not convinced that showrooms are worth the time it takes to visit them, then here are our top five reasons why you should hop in the car and head over. 
Experience Options in Person
When designing a bedroom, being able to see how things would fit together in a space can be very useful. Of course, you can try doing this through trial and error at home, but this can be expensive, particularly with tricky return policies. A bedroom showroom can show you what your current ideas look like in person, giving you a full sensory experience. You can see the finish and touch the texture of different materials, enabling you to decide which solutions are best for your home. You can also see the way that your preferred colours will look in different lighting.
You might find that the style you were dead set on just doesn't look right in reality or you might stumble across ideas that you'd never thought of but fall in love with. Visiting a showroom can transform your intentions for the better, allowing you to create a final design that suits your needs and your aesthetic. There is just no substitute for the entire experience of visiting our inspiring bedroom showroom in Middlesex.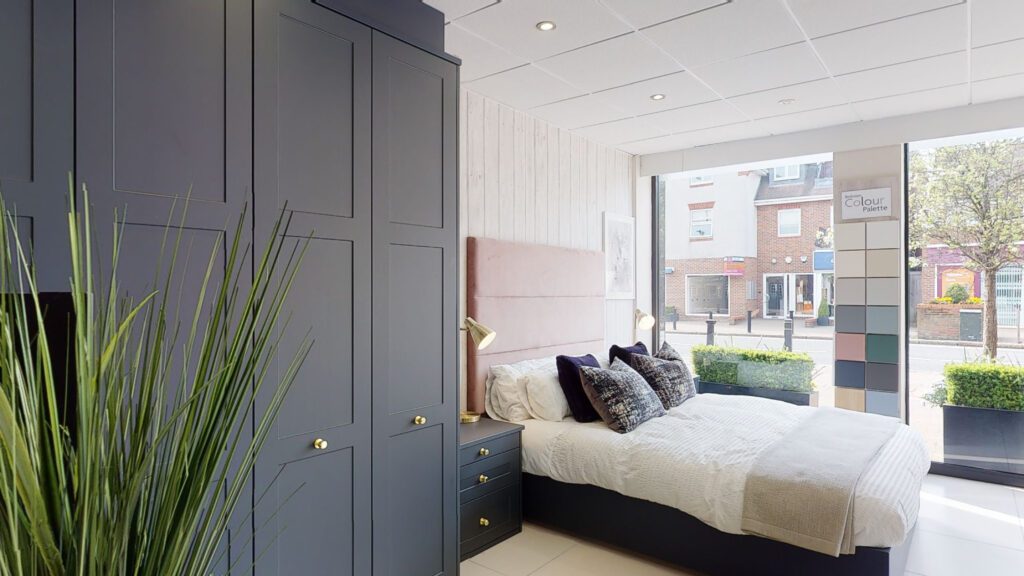 Gain a Better Understanding of Space
Even if you have good spatial awareness, it can be difficult to translate the images that you see on your screen into your actual space. How big is a king-size bed in reality and how would that look in your space? You can use measurements and diagrams but this can still make it difficult for you to really visualise what your bedroom will look like after your renovation. It can be so easy to underestimate the size of your furniture, which can lead to an overcrowded room that isn't enjoyable to spend time in. 
Bedroom showrooms can help you to overcome this common problem. You will be able to see how big different pieces of furniture actually are. This can help you to make an informed decision about what will comfortably fit into your bedroom and get a better feel for what it will be like in the space. A more accurate understanding of your space will help you pick out the best pieces of furniture for your bedroom, helping you to avoid an unfulfilling bedroom design.
One of the best parts of visiting a bedroom showroom is being able to speak with experienced specialists. Our team are experts in bedroom design and we have helped hundreds of homeowners to create a space that perfectly meets their needs. We can answer all of the questions you have about bedroom layouts, style choices and material options. Not only can we offer useful advice, but we can also explain why certain things will work in your space, making it easier for you to make design decisions in the future.
Moreover, our specialists can help you determine what is possible for your space and how to make your design fit your desired aesthetic. This sort of tailored advice isn't available online and it can help make the process of renovating your bedroom so much easier. Our experts have a great eye for style too, offering a new point of view that you might not expect. Getting your design right from the outset will save you money in the long run, so it's definitely worth popping into our showroom to chat about your bedroom plans. 
Spark Inspiration for Your Bedroom
Online resources are a great place to start when you're looking for design ideas. Browsing Instagram and Pinterest is a great way to spark inspiration and find new ideas that you might not have seen before but this can only take you so far. When visiting an interior design showroom, you can take any ideas you have and turn them into a plan. Being able to see designs in person will help you to either confirm your design choices or to rethink your strategy.
At our bedroom showroom in Middlesex, we keep our displays up to date with the latest trends and styles in the interior design world. Our aim is to make sure that you have the best inspiration for your bedroom before you start the renovation process. Seeing a design in person might be disappointing if it's not everything you imagined it to be or it can cement your decisions. Even well-rendered digital designs can't quite match a showroom for helping to inspire new ideas and solidify your renovation plans.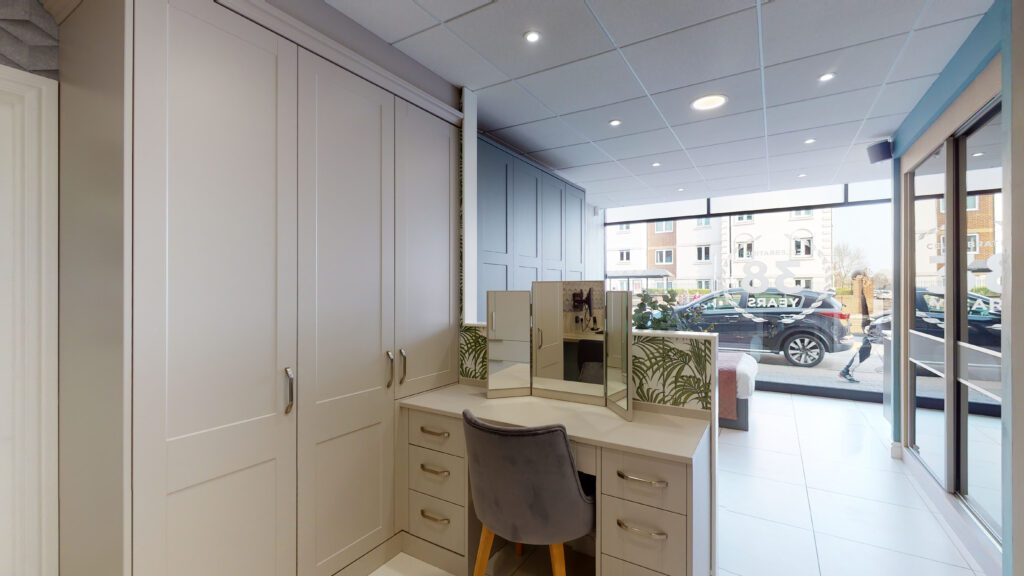 Start Designing Your New Room
Our showrooms are not just a place for inspiration, they are also a place for you to design your perfect bedroom. Our team of specialists can help you to take all of your ideas and turn them into a bespoke design for your space. We're committed to helping you create the perfect bedroom design and we can arrange for furniture to be custom-made for your space. Arguably this is one of the best reasons to visit a bedroom showroom and we will take all the hard work out of your bedroom project.
We can discuss the vast range of material and colour options with you too, so you can choose the best solution for your bedroom. Our team will help you to ensure that every aspect of the design works together in a cohesive manner and you are delighted with the finished look and feel of the space. Designing any room on your own can be a lot of work and it can be very stressful. So, if you want some assistance from an experienced designer, visit our bedroom showroom in Middlesex today.
Visit our Bedroom Showroom in Middlesex
You can pop into our showrooms at any time during our opening hours, but if you'd like to ensure that you're able to speak to one of our consultants during your visit then we'd recommend calling ahead. This way we can ensure that one of our designers is ready and waiting to help you take the next step towards your bedroom renovation.