Kitchen renovations are a long, complicated process that is made up of many intricate steps. The first step is choosing the right layout for your cabinets and appliances. Most kitchens have a limited amount of space and the right layout will allow you to make the most of every inch. The layout is the key to a great kitchen and it can influence every other decision you make during your design process. 
Here at Ashford Kitchens & Interiors, this is where we start with all of our kitchen designs. We review your space before we start and pick one of the specific layouts that are regularly used by designers, almost as a template. These layouts can be translated to almost any kitchen space, no matter how big or small the space might be. 
We've spent many years perfecting this art, placing the working triangle at the centre of every kitchen layout we produce. The working triangle refers to the placement of your sink, hob, and fridge; a placement that should look like a triangle. This is important because it makes your kitchen space as efficient as possible. No matter which kitchen layout you choose, it is important that you remember this working triangle and put it into action in your own kitchen space.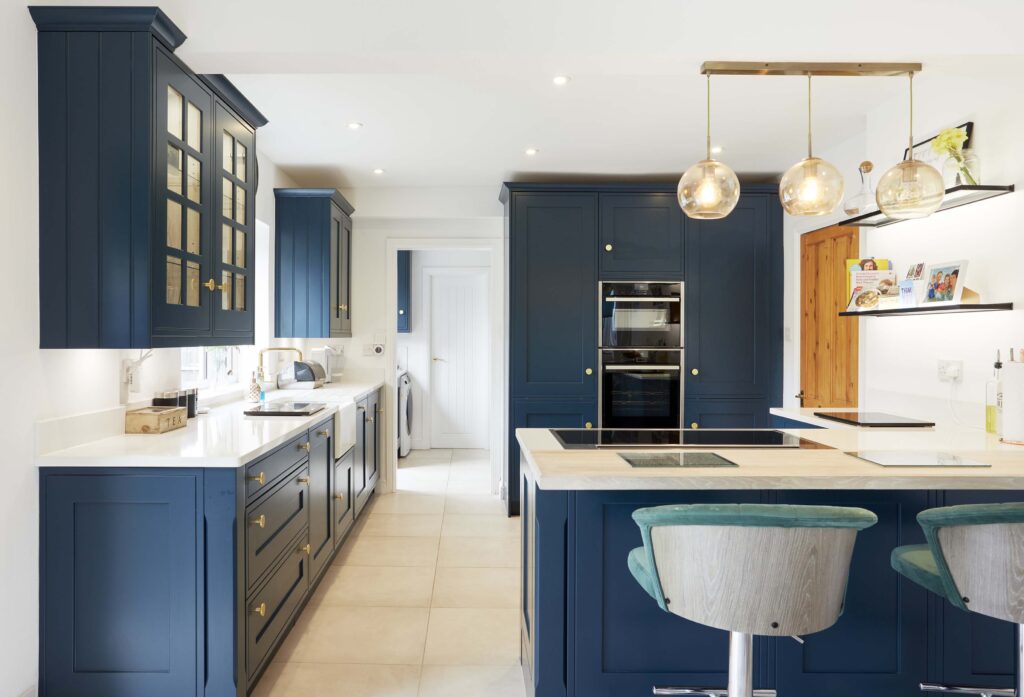 What are the Most Popular Kitchen Layouts?
There are four main types of kitchen layout that can be adjusted to suit any kitchen space. Unless you have the opportunity to completely renovate your home, you'll need to work with the space that you have. Some kitchen designs just aren't suitable for certain kitchen sizes, and it's best to avoid them during your design process. Understanding the different types of layout available is the best way to do this and we want to introduce you to these layouts.
Some kitchen spaces are long and narrow, similar to a corridor but a lot wider. While some people don't consider this to be a good space for a kitchen, as it resembles more of a walkway than a kitchen space, it is in fact perfect for a galley kitchen layout. This layout includes units that run along both walls, creating a corridor and a galley down the middle. This really allows you to make the most of the space that you have and it does still have a working triangle. 
Of course, you have to be a little bit resourceful when planning the layout. We would recommend you design one of your cabinet runs to include both the hob and the sink. Be sure to maintain a long surface area between the two, as that space can be used specifically for food preparation. We would then recommend placing your fridge in the opposite cabinet run, allowing you easy access to your ingredients while cooking or preparing food. 
If your preferred aesthetic includes open plan living, then you should consider the L-shaped kitchen. This kitchen layout is designed to open up your living space and create a light, airy, pleasant environment. The best way to design an L-Shaped kitchen is by placing two cabinet runs and right angles to each other. These kitchens are particularly popular in apartments, as they allow for the kitchen to seamlessly blend into the other living spaces. They also allow you to create the illusion of space.
You still have to remember your working triangle. It's actually quite easy to create in this layout. We would start by placing your sink near the corner of your kitchen, where the two cabinet runs come together. This acts as an anchor point, making it easy for you to place the other parts of the triangle. You can place your hob and your fridge at the end of the cabinet runs, allowing easy access to everything you need. There is some flexibility to this part of the design though, as long as the placement works well for you. 
Continuing with the idea of letter shaped kitchens, the U-Shaped kitchen is an ideal layout for a wide range of spaces. Generally speaking, it consists of three cabinet runs that join together in a U-shape around the room. This is particularly popular for both large and small kitchen spaces as it offers both the most storage and working space. 
Of course, because of its flexibility and additional space, there are so many options for the working triangle within a U-shaped kitchen as your sink, fridge, and hob can have a whole cabinet space to themselves. This really opens up the space and allows for convenient and efficient working.
The pinnacle of kitchen design it's probably the island kitchen, a style that so many people across the country want to create in their own homes. However this style is really only suited to very large kitchens that can use the island as a grand centrepiece. We would not advise choosing a kitchen island just for the sake of it, or because it is a trend, as it can end up cluttering up your kitchen and throwing off your working triangle. But, if you have the space and you know it will function as an important part of your kitchen, then you can have several options for your working triangle. We would recommend installing either your sink or your hob into your island as it allows the best use of space.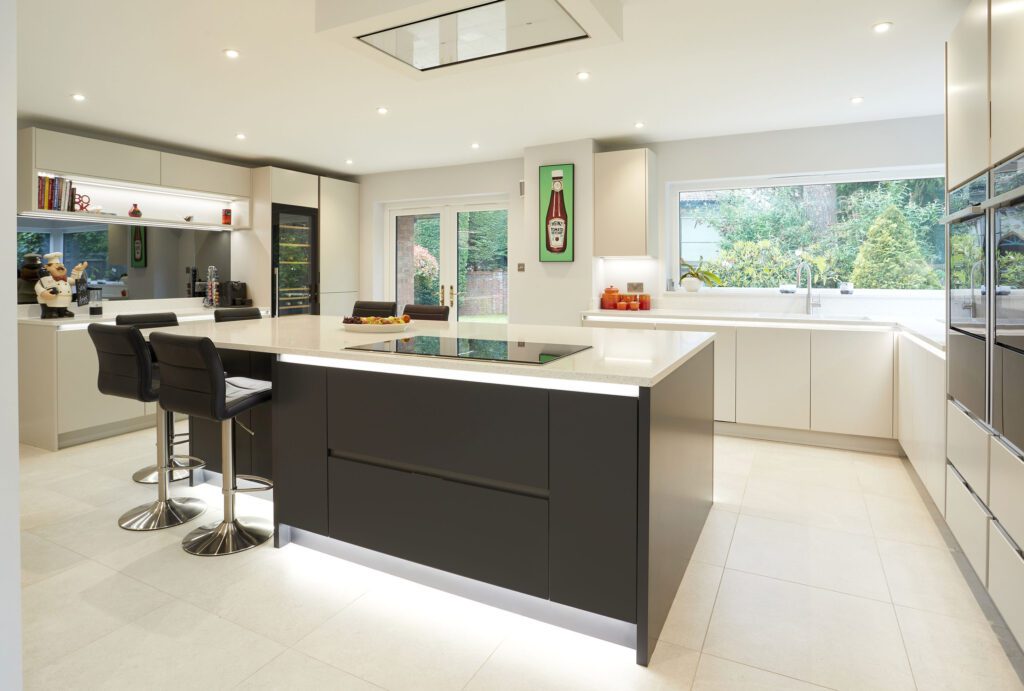 Ready to Get Started?
We hope this post has inspired you to invest in a new kitchen layout. If you have any questions about any of the different kitchen layouts available, then why not get in touch with our team? We will be able to give you more details about the ideal kitchen layout and even arrange for a consultation with one of our designers. We look forward to hearing from you.