Whenever you're working on a new bedroom design, arguably one of the most important things to think about, aside from the layout, is the colour scheme. There is no denying that the colour scheme you choose will play such a vital role in so many of the design decisions that you make later down the line and it really is the base of your whole design.
Due to the fact that the colour scheme you choose will dictate the colour that you paint your walls, the colour of your bespoke bedroom furniture, the colour of your curtains and of course, any accessories that you choose, it is fair to say there is a lot of pressure to make the right decision. Thankfully, there are so many incredible colour schemes to choose from and your options are almost limitless. However, if you're wanting to opt for something that will stand the test of time, then below are some colour schemes you should consider.
Neutral colour scheme
This is by far one of the most popular colour schemes. Many have used neutral tones all around their home and the love for these definitely isn't going anywhere. For your bedroom, you might want to consider some of the warmer neutral colours to make your room feel cosy and of course, you have so many different options for accent colours when you go for a neutral base.
Grey colour scheme
Over the past few years, grey has become the most commonly chosen colour scheme and it is definitely a timeless option. Whether you go for a lighter grey or even a charcoal grey, you can guarantee that it will work brilliantly in your bedroom and with so many different shades to choose from, mixing and matching is always an option that works brilliantly.
Blue colour scheme
Generally speaking, the colour blue tends to be associated with calmness and for this reason, many have used blue in their bedroom in the past. Baby and pastel blues are usually considered a safe option, yet it is becoming more common for homeowners to play with navy blues and darker shades too, which always look much more luxurious.
White colour scheme
On the contrary to the warm neutrals mentioned above, stark white is actually also a very popular choice for bedrooms, especially if the room is small. This classic colour scheme is so simple, yet so effective when done right. In order to add depth and texture to an all-white room, you should play around with materials and different bespoke bedroom furniture finishes.
Purple colour scheme
When you think of purple, many picture a bright colour, but there is so much more to this colour scheme. Purple-washed neutral colours and berry tones work beautifully in a modern bedroom and there are so many elegant colours to play with. Purple is stereotypically feminine too, yet when paired with the correct accent colours, it can work in absolutely anyone's bedroom.
Green colour scheme
Many people want to bring elements of the outdoors in when they're working on a bedroom design and opting for a green colour scheme can help you to do this. Similarly to light blue, pale greens are tranquil colours and this is what makes them popular for the bedroom. However, rich shades of forest green or teal also work brilliantly and give a completely different feel to a space.
Getting some assistance with your bedroom design in Surrey
There is no denying that it is always important to choose the right colour scheme and you really can guarantee that if you opt for any of the options mentioned above, your bedroom will look amazing, and remain on-trend, for many years to come. Of course, there is no right or wrong answer when it comes to choosing the main colours for your bedroom and this really is a personal decision, so ensure that you're picking a colour scheme that you love.
Should you require any assistance when working on your new bedroom design in Surrey and the surrounding areas, our team here at Ashford Kitchens & Interiors are the perfect people to reach out to. We specialise in bespoke bedroom furniture and have had the pleasure of helping lots of homeowners completely transform their bedrooms. Contact us today for a free no-obligation design visit and our talented team will consult with you about your bedroom design ideas. We understand that no two bedrooms are ever the same and we will work closely with you to create a design that is perfect for individual needs.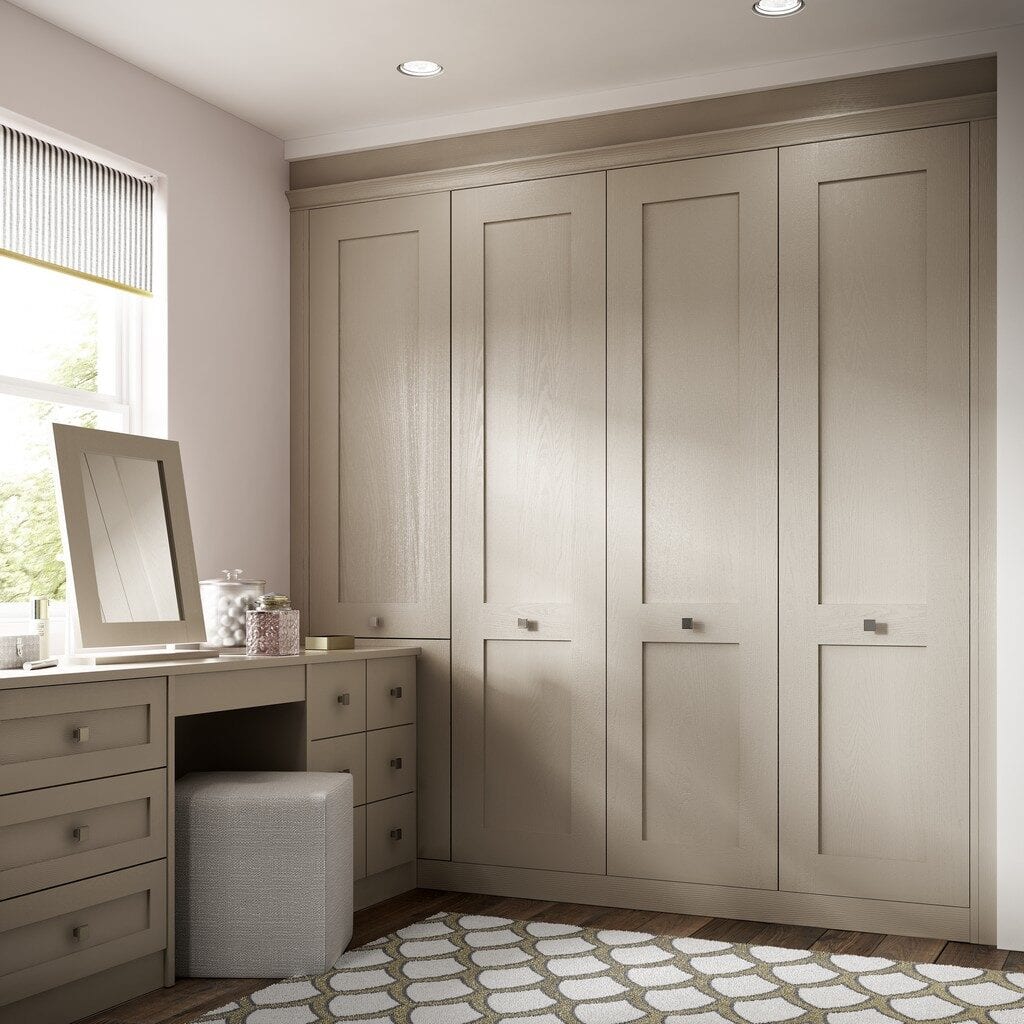 Summary
Article Name
Bedroom Colour Schemes That Stand The Test Of Time
Description
Bedroom Colour Schemes That Stand The Test Of Time – Whenever you're working on a new bedroom design, arguably one of the most important things to think about, aside from the layout, is the colour scheme
Author
Hannah Start