Your bedroom should be a tranquil and peaceful space that provides you with a sense of comfort and security. Not only is this room somewhere you go to sleep, but it should be somewhere you can relax and unwind from the stresses of everyday life. For this reason, it's crucial to ensure you're creating a calming environment when renovating your bedroom and there are a few ways you can transform this room into somewhere you can escape to. 
Our team at Ashford Kitchens & Interiors has put together a list of some simple ways you can create a relaxing and stress-free atmosphere in your bedroom. We provide a comprehensive bedroom design, supply and installation service, and we specialise in fitted bedroom furniture. To learn more, keep reading today and for further information about our bedroom collections, feel free to explore the rest of our website.
Choose Calming Colours
The colour scheme you use in your bedroom will impact both the look and feel of the space. Choosing calming colours can help you relax and create a peaceful atmosphere to sleep or rest in. A good option is to use soft, neutral colours like whites, greys and beiges. These colours create a clean and calming atmosphere. You can also add a splash of colour with warmer tones, like pastels and earthy hues. These subtle shades will create a sense of comfort and cosiness, helping you to relax and decompress from the day. 
When you use calming colours on your walls and incorporate them into your bespoke furniture designs, you can ensure your bedroom is an inviting space. They can help to reduce stress and anxiety, as well as offer a sense of calm. Not to mention, lighter shades can make a room appear larger too, creating a more open and spacious feel.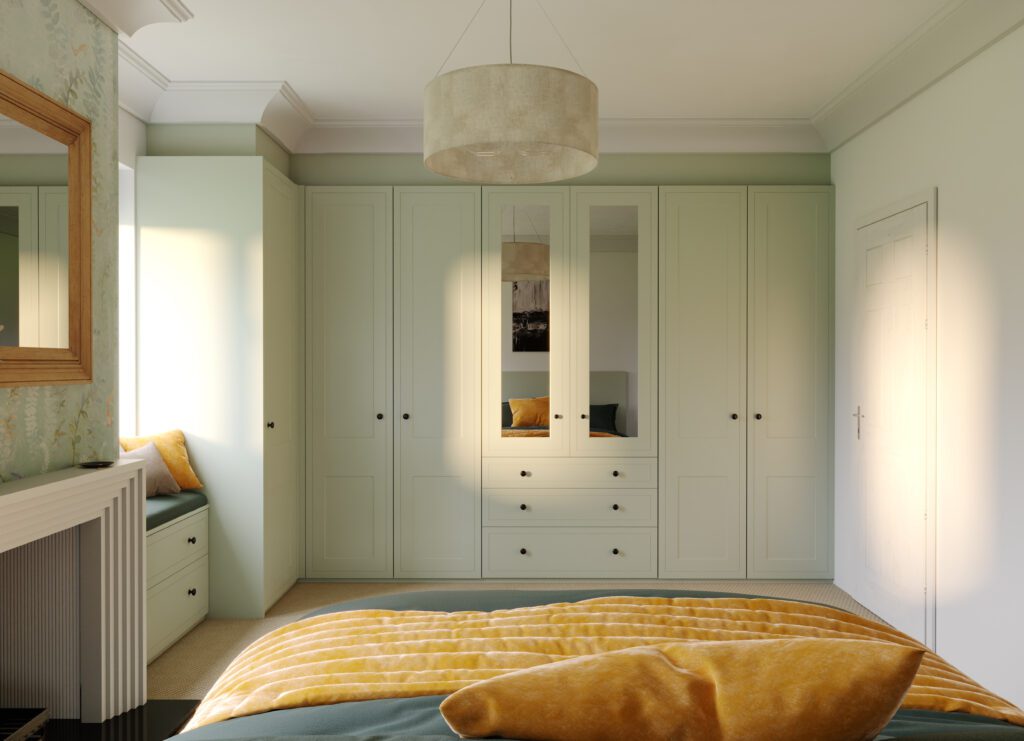 Use Natural Elements 
Another way to make your bedroom more relaxing is to bring in some natural elements. Using natural features in your bedroom can create a calming atmosphere and there are several advantages to increasing connectivity to the natural environment through interior design. Natural elements such as wooden furniture, plants and stone accents can help to create a bedroom where you can relax and have a restful night's sleep. 
Wooden furniture can add a warm and inviting feeling, and it also has a traditional and timeless aesthetic. Plants and flowers can help to create visual interest in your bedroom, adding some life and making it feel more homely. Using natural elements in your bedroom can transform the space into somewhere that is aesthetically pleasing and calming to the senses.
Incorporate Texture
Texture is an important part of any bedroom design. Using texture in your bedroom can help to make it more cosy and welcoming, and there are lots of different ways you can add texture to your bedroom. From using scatter cushions and throws on your bed to putting Shaker-style doors on your wardrobe, you can give the space visual interest and make it feel complete. 
Soft textures can be used to counteract hard textures and create a well-rounded, cohesive space. Combining different textures can also be used to layer a space, adding depth and visual interest to your bedroom. When used strategically, texture can help create a unique and inviting bedroom that you can't wait to spend time in.
Use Low Lighting 
In addition to natural lighting, you will also need artificial lighting in your bedroom. The lighting you choose can impact the feel of the space and low lighting in the bedroom can be a great way to create a soothing environment. By using dimmer switches, you can adjust the brightness to whatever level you feel comfortable with. This can be especially helpful if you like to read before bed or just want to relax in a cosy atmosphere. 
Think carefully about where you place accent lighting and task lighting throughout your bedroom too. Having lighting in dark corners can help to create a space that is both aesthetically pleasing and practical. By carefully placing your task and accent lighting, you can reduce the amount of glare that is reflected off of other surfaces, making it easier to relax and get a good night's sleep.
Renovating your Bedroom with Ashford Kitchens & Interiors
We hope that this post has helped you understand how you can make your bedroom a relaxing sanctuary where you can wind down at the end of a long day. If your bedroom is outdated and doesn't suit your lifestyle anymore – our team at Ashford Kitchens & Interiors is here to help. We have been providing our customers with high-quality fitted bedrooms for decades and we would love to help you create a space where you can enjoy a restful night's sleep. 
Here at Ashford Kitchens & Interiors, we understand that each and every homeowner we work with has different requirements for their bedrooms – which is why we create bespoke designs, especially for you. You can decide exactly how you want your bedroom to look, from the layout to the colour scheme, and we can help you to design made-to-measure furniture. Whether you're looking for a classic, traditional feel or something more modern and contemporary, our team will be able to help. We will support you every step of the way, providing impartial advice and guidance, and helping to ensure that you love your new bedroom.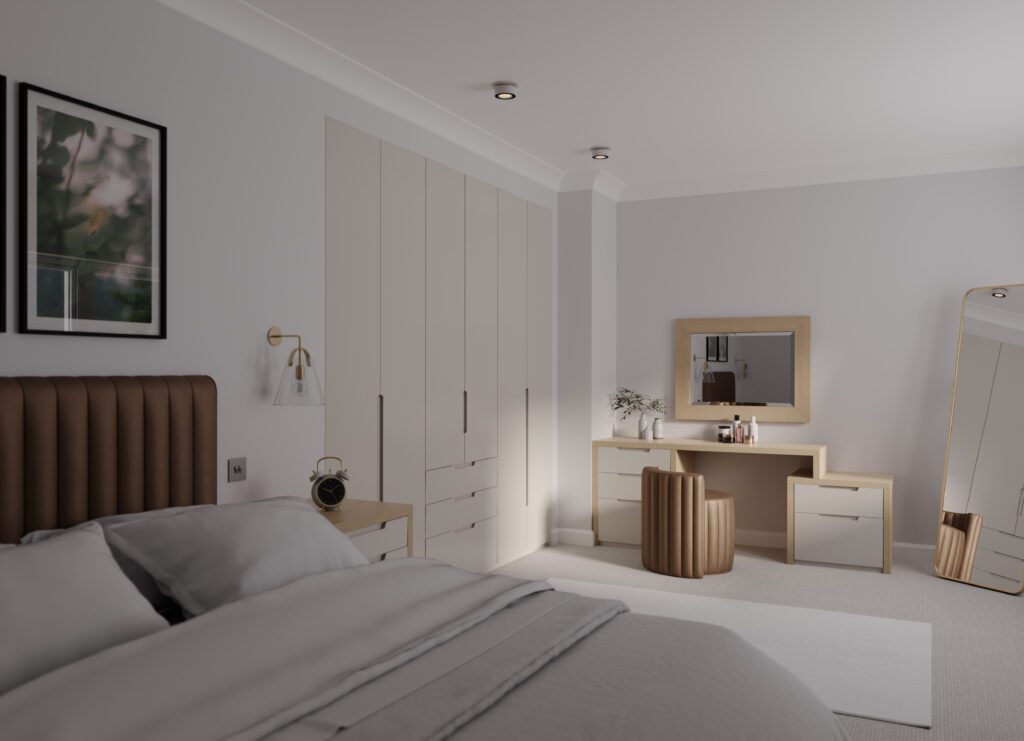 Creating Bespoke Fitted Bedroom Furniture
All of our fitted bedroom furniture is custom-made to your exact specifications, so that it fits into your bedroom perfectly. Our team will work with you to design fitted furniture that helps you to make the most of your space and meets all of your needs. Our luxury bespoke bedroom furniture is expertly handcrafted in England and we use the highest quality materials to provide you with the very best when it comes to your new bedroom. 
To learn more about designing fitted bedroom furniture in Ashford, you can contact our team today. We invite you to fill out our online contact form and a member of our team will be in touch with you to discuss your requirements. You can also reach us by giving us a call on 01784 245964 or 01753 642362, or by sending us an email directly to info@ashfordinteriors.co.uk.