The wardrobe is a key piece of furniture in any bedroom and it is arguably one of the best storage solutions to have. Nowadays, fitted wardrobes can be tailored to your specific needs and preferences too, making them even more convenient and you can easily ensure that all of your belongings have a home within this piece of furniture. 
When you're designing a new wardrobe for your bedroom, in addition to making sure the interior is practical and convenient, you need to focus some time and attention on the doors. The doors are an essential part of the wardrobe design and there are several door systems and styles available to choose from these days. The bespoke wardrobe doors you design won't just affect the functionality of the wardrobe, they will also have a huge impact on the overall look of this piece of furniture. So, it is essential to get this particular part of the design right. 
If you've never designed a bespoke wardrobe before and you're wondering where to start when it comes to the doors, below we have put together a list of important things to consider. 
The way the doors open 
One of the biggest decisions you will need to make when designing your bespoke wardrobe doors is whether you're going to have sliding doors or hinged doors. There are benefits to both of these options and when choosing which type of door is best for your fitted bedroom wardrobe, there are several different factors to consider. 
Two of the most important things to think about when deciding how your doors are going to open are; where the wardrobe is being installed and the amount of space you have. For example, if you install the wardrobe in an alcove, you might not be able to have sliding doors and if you have a small bedroom, you might not have enough floor space to swing open a hinged door. Of course, the way the doors open will impact how accessible your belongings are, so take your time to ensure you make the right decision. 

The number of doors 
When you're designing a fitted wardrobe, you can choose how many doors you would like to have. Whilst you may assume that a bigger wardrobe will require more doors, this isn't necessarily the case. If you choose sliding doors, for example, you may only require two or three doors whereas you may need more if you opt for hinged doors. Depending on the interior storage solutions you choose for your wardrobe, you may find that you require doors in specific places to make accessing particular belongings more convenient too. 
The overall style 
Whether you would like your furniture to have a traditional shaker style or be more contemporary will influence the design of your bespoke wardrobe doors. There are so many different door styles available, from practical mirrored panels to striking textured frames, and you will need to consider which will best complement the rest of your room. Think about how much of a statement you want to make too and decide whether you would like your new wardrobe to be a focal point in your bedroom or more discreet. 
The type of finish 
Lots of the door styles you have to choose from will be available in different finishes too. For example, if you opt for a traditional painted wooden door, you can have a matte or gloss finish and this will have a big impact on the overall aesthetic. You may also have the option to combine things like mirror and glass doors with a wood effect frame too, and it's beneficial to explore all of your options before deciding on this key part of your bespoke wardrobe doors.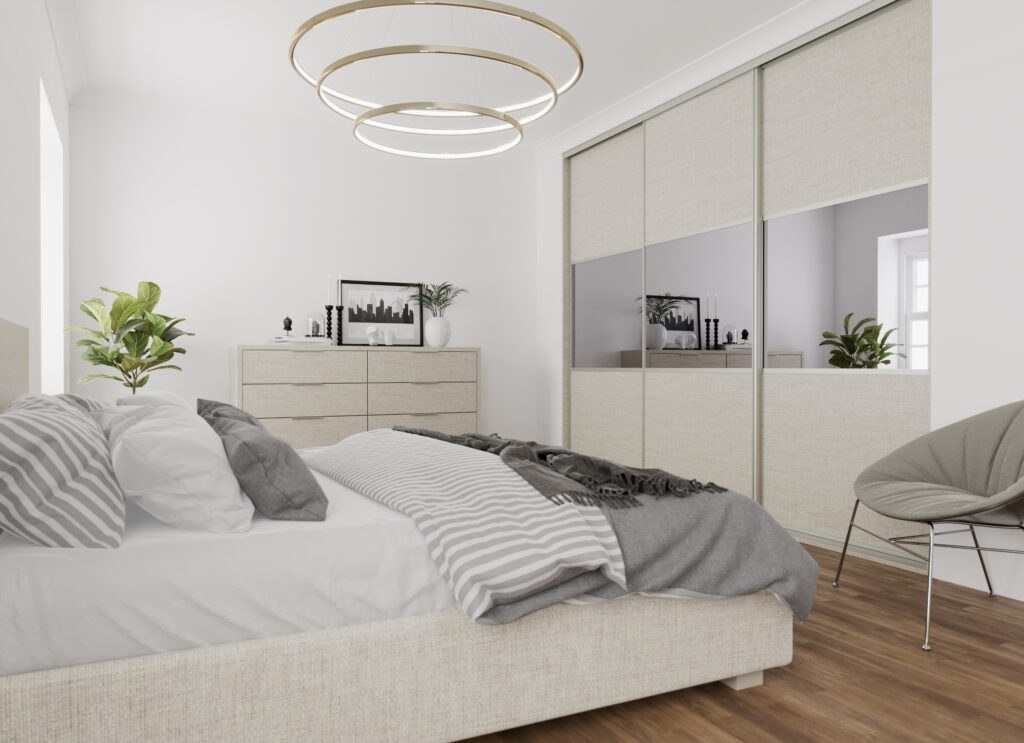 The colour of the doors 
Similarly to when you're designing any other piece of furniture, you will need to think about what colour you would like your wardrobe doors to be. Fitted furniture is an investment, so it's beneficial to choose a timeless colour that you will still like in years to come. Always take into consideration the colour scheme of your bedroom when choosing which colours you're going to incorporate into your wardrobe design too, this will help to ensure the doors complement the rest of the room. 
The handles
Not all wardrobe doors have handles and there are lots of handleless designs available, but if you would like to have handles, they will have a big impact on the final look and feel of the wardrobe. These finishing touches are equally as important as any other element of the design and the handles you choose can transform your bespoke wardrobe doors. Handles are available in all kinds of shapes, sizes, metals and finishes these days, and you shouldn't struggle to find a solution that works perfectly for your fitted wardrobe. 
Designing your bespoke wardrobe doors
If you want to furnish your bedroom with bespoke fitted furniture, don't hesitate to contact our team at Ashford Kitchens & Interiors today. We can help you to design a new wardrobe that meets all of your needs and preferences, and bring your vision to life. We have several bedroom collections to choose from, so you can trust we will have the perfect solution for you. It is even possible to "mix and match" our collections to create truly unique furniture.
Here at Ashford Kitchens & Interiors, we care about the outcomes of our customers' home improvement projects and we can provide you with the comprehensive assistance you need from start to finish. We invite you to visit one of our showrooms today to get some more bedroom inspiration and we have lots of displays to browse. Our expert team will also be on hand to answer any initial questions you may have about fitted bedroom furniture and you will have the opportunity to get some advice about your design ideas.