There are several benefits to installing fitted wardrobes in your master bedroom. Not only are they perfect for awkward spaces, helping you to make the most of every inch of space in your bedroom, but they can be designed to complement your interior design. When you're creating a contemporary fitted wardrobe for your bedroom, you will have control over every element of the design, from the way the doors open to the colour and material of the frame. So, it's easy to ensure that your wardrobes meet all of your functional and aesthetic requirements.
Many homeowners don't realise that you can even customise the interior of fitted wardrobes too. With a huge range of interior storage solutions to choose from, you can create a wardrobe that makes getting ready in a rush as easy as possible. All of your clothes and accessories can have a dedicated home, helping you to de-clutter and keep everything tidy, and you can organise the interior according to your unique preferences.
If you're wondering which storage solutions are available for contemporary fitted wardrobes, below we have listed some of the most popular interior options. 
Hanging rails
Of course, hanging rails are essential in any wardrobe and they provide you with somewhere to store all of your hanging clothes. However, there are lots of types of hanging rails available to choose from. Many homeowners will have different height hanging rails in their wardrobes, enabling them to conveniently hang both shirts and long dresses without them sitting on the bottom of the wardrobe and getting creased. 
Pull-down hanging rails are very popular too and they allow you to have hanging rails higher up in your wardrobe, preventing wasted space. Being able to pull the rail down to access your clothes makes getting ready much easier in the morning. Another great hanging rail to have in your contemporary fitted wardrobe is a trouser rail. This rail is specifically designed for trousers and it will prevent you from having to fold your smart trousers into drawers. This type of rail doesn't take up much space either, so it's easy to fit into your wardrobe interior. 
Drawers
Lots of homeowners will choose to include drawers in the interior of their wardrobe and this will prevent them from needing a freestanding chest of drawers in their bedroom. Removing this piece of furniture can free up lots of floor space, making your master bedroom look and feel more spacious, and it will provide you with more space for other essentials. 
Drawers are available in different widths and depths for contemporary fitted wardrobes, and you can design your drawers specifically for the items of clothing you plan to store in them. You can even create drawers for your jewellery and other small accessories too using smart drawer inserts. These will help to prevent you from misplacing expensive items because they don't have a dedicated storage space, and they can help to keep them safe. 
Multipurpose shelves
You may worry about having open shelving in your bedroom as shelves can end up looking cluttered and messy, but they are a great storage solution for your contemporary fitted wardrobe. Since these shelves will be behind your hinged or sliding doors, you won't have to worry as much about what you store on them or whether you're able to keep them tidy. 
It isn't uncommon for homeowners to install shelves in their wardrobes for things such as their handbags and hats, and this storage solution is ideal for larger items that won't fit in drawers. Of course, you can put folded clothes on shelves too and they can be a great option for thick winter jumpers. When you have shelves in your wardrobe, you can always use storage boxes to help you keep them looking neat and tidy too. 
Shoe racks
It can be easy to forget about your shoes when you're choosing which pieces of furniture to have in your master bedroom, but shoe storage is key to preventing your shoes from cluttering up your floor space. Having shoe racks incorporated into your wardrobe is a great way to not only keep your shoes tidy, but ensure they're easily accessible too. 
Depending on the type of shoes you want to store in your contemporary fitted wardrobe, you may find that some shoe racks are more suitable than others. For example, you're likely to need different storage solutions for your boots, high heels and trainers. The majority of shoe racks that are used in wardrobe designs can be pulled out, so you can conveniently store two or three rows of shoes, if your wardrobe is deep enough.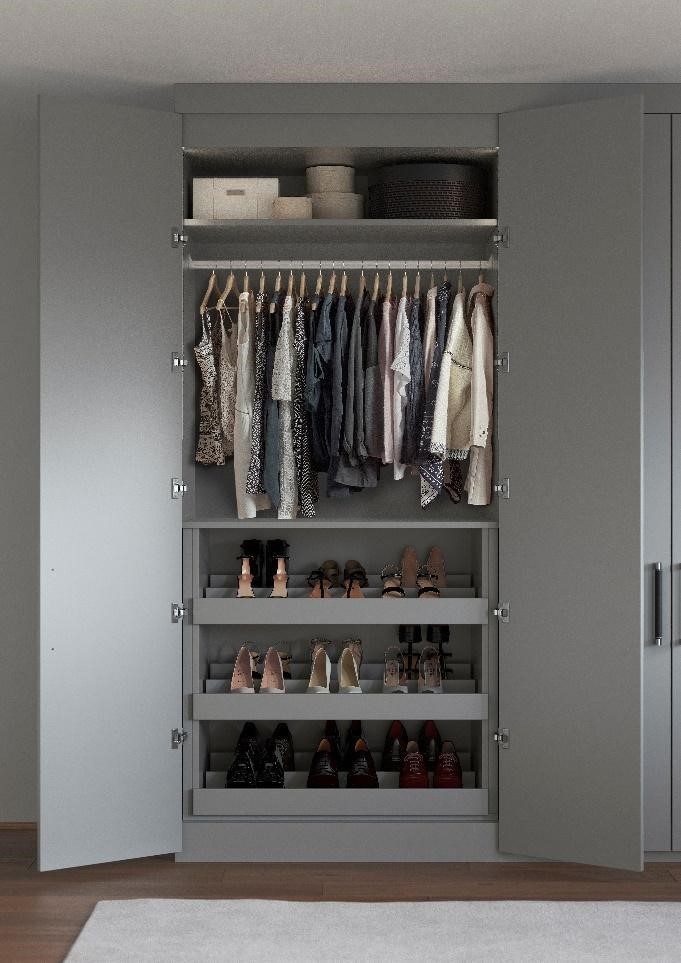 Tie and belt racks
When you don't have enough storage space in your drawers for all of your accessories, it can be beneficial to have tie and belt racks in your wardrobe. These racks won't take up much space and they can even be installed on the inside of your hinged doors, yet they're incredibly useful. Having somewhere to store these day-to-day essentials will make it easier to find the perfect accessories for your outfits and using racks can prevent you from having to rummage through drawers or storage boxes in the morning. 
Designing contemporary fitted wardrobes for your bedroom
If you'd like to have fitted furniture in your master bedroom and you're interested in designing a new bedroom wardrobe, don't hesitate to contact our team at Ashford Kitchens & Interiors. We specialise in bespoke bedroom furniture and we can help you to design a contemporary fitted wardrobe that provides you with ample storage space and also looks beautiful. Our distinctive bedroom storage ideas set us apart from other local furniture companies and our internal storage solutions can be tailored to suit your needs and your belongings. 
We invite you to book a free no-obligation consultation with one of our experienced designers to start exploring the options available to you. They will measure your space, discuss your needs with you and recommend the most practical layout for your fitted wardrobe interior. We can assure you that you will be in the best hands with our expert team.