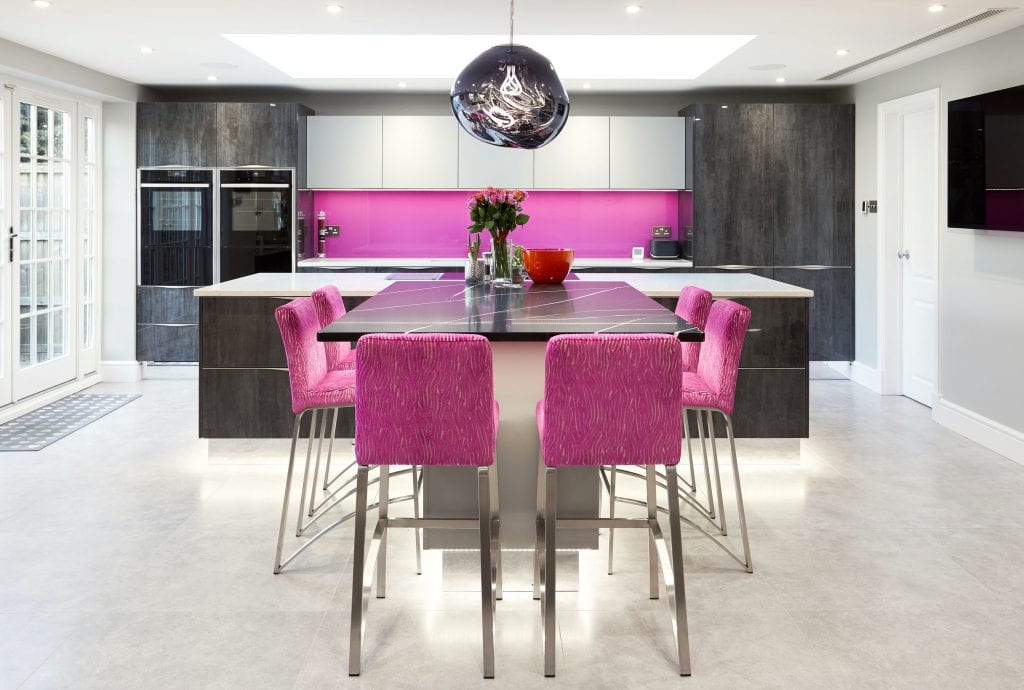 There is no denying that luxury modern kitchen design is becoming increasingly popular and for many looking to revamp their kitchen, this trend will be their first choice. 'Luxury' is a difficult word to define, yet it is one that is commonly used in interior design. As far as luxury modern kitchens are concerned, you know what this is when you see it but, there are some recurring features of this specific style that can help you understand what it really is.
When it comes to luxury modern kitchen design, there is more than meets the eye. From colour palettes to decorative items, there is a lot to think about and many are unsure where to even start. For this reason, our team here at Ashford Kitchens & Interiors have put together a list of helpful tips that are beneficial to anyone looking to create a luxury modern kitchen design. These tips will also help you to understand exactly what a 'luxury' modern kitchen is. 
Statement flooring or countertops
It is not uncommon for the colour palette of a luxury modern kitchen design to be neutral or monochrome, however, many will opt for statement flooring or countertops. Whether this is textured floor tiles or rich marble worktops, it will instantly add some life to the room. Don't feel as though you have to play it safe with your statement choice either, in a modern design, you can push the boundaries.
Oversized kitchen island
For many, their luxury modern kitchen won't just be a place where they make their meals, it will also be a place to entertain family and friends. For this reason, a kitchen island is often an essential feature. It is fair to say that an oversized kitchen island instantly catches your eye and when paired with pendant lighting, unique bar stools and a vase or other surface accessories, it can provide the perfect luxury feature that every kitchen needs. 
Built-in appliances
It is very unlikely that you will be able to see appliances, such as the fridge or the dishwasher, in a luxury modern kitchen. You can expect these items to be built into the kitchen cabinets, creating a sleek seamless look to the space. It is for this reason that the majority of homeowners will opt for a bespoke kitchen design, they can then ensure that all of these small details are exactly as envisioned. 
Standout sink and tap
You can expect many modern kitchens to have a standout sink, often featuring a statement tap. Luxury design does not compromise function for style, it finds a way to make functionality stylish. Whether you choose a butler skin with a stainless steel big mixer tap or you have the sink integrated into your worktop with a pullout spray tap, it will be noticed for the right reasons. Lots of people are also swapping their kettle for a boiling water tap too.
Feature lighting 
Even if you have a huge window that allows natural light to flood into your kitchen, when creating a luxury modern kitchen design, you should also think about feature lighting. As mentioned above, many opt for pendant light fixtures over their kitchen island but others will choose a light fixture that is more of a feature. Many lights these days are also pieces of art and you should find something that perfectly complements the rest of the design. 
Designing your luxury modern kitchen 
Hopefully, the tips above have given you an insight into what a luxury modern kitchen is and how you can create this design in your own kitchen space. There is no denying that luxury kitchens are a brilliant all-round choice and this modern design will work well in almost any property. When this style is executed well, you can enjoy your dream kitchen and a space that you will go on to love for many years to come. 
If you need any assistance with your new kitchen, here at Ashford Kitchens & Interiors, we specialise in contemporary kitchen design in Surrey. We have had the pleasure of creating a range of bespoke luxury modern kitchen designs for our customers in the past and you can trust that you're in safe hands when you turn to our team. If you have any questions about how our team of kitchen designers in Surrey can assist you with both your kitchen design and installation, please don't hesitate to get in touch today.