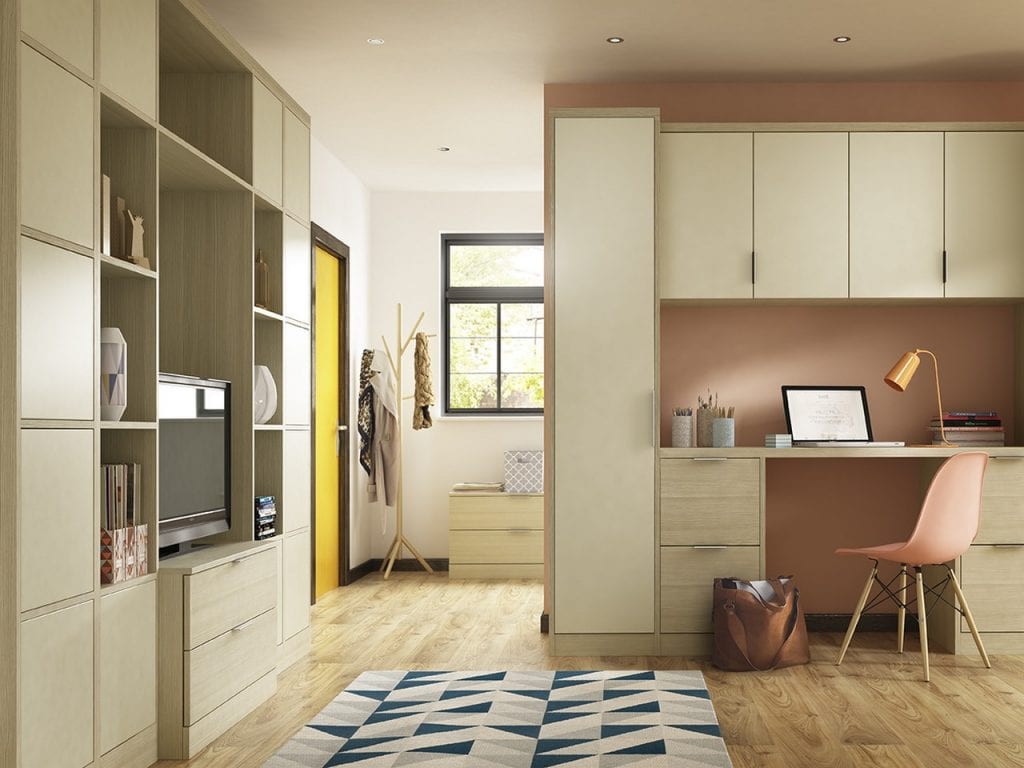 In today's modern age, many people work from home occasionally and others will do so full time. Due to this, lots of homeowners are looking to create usable inspiring rooms to work from in their own home. Whilst not everyone will have a spare room that they can completely revamp into a bespoke home office, fitted home office furniture, such as floor to ceiling cabinetry, makes it possible to transform even the smallest space into an effective working area.
When deciding to go ahead and create a bespoke home office in your property, you will undeniably have a lot of different things to consider. It goes without saying that it can be an incredibly difficult task to design and install office furniture effectively making the most of the home office space that you have. For this reason, the majority of homeowners who want to be able to work from home in a specifically designed area will reach out to professional designers for assistance. Even when doing so, there are lots of decisions you will need to make yourself, and below are the biggest things to think about. 
Decide on the best place for your home office 
Before you can start any design work for your bespoke home office, you need to decide on where you would like to work. Try to find somewhere that is away from the distractions of everyday home life, with enough spare space where you can dedicate some fitted home office furniture. Choosing the right place is essential to your success so don't overlook the importance of this. 
Think about what is important to you for this space
Depending on the work that you do at home, you may have different requirements for the space, so take some time to highlight what is important to you in order for the office space to be beneficial. It doesn't matter what these things may be, the furniture will be designed to suit your needs so you can be as specific as you would like. 
Contemplate different colour palettes 
Think carefully about the colour choices you're going to decide on in the room that you will be working from. It can be beneficial to keep this space bright and airy, but you can still play with colour and make the room somewhere you enjoy spending time. When thinking about colour palettes, think about the walls, the furniture collection and also any accessories and accent colours. 
Consider how much storage space you need
Storage is absolutely essential for every bespoke home office, and it is important for everything to have a home to prevent the space from being cluttered. Think realistically about how much storage you need and the size of items you need to be able to store. Your fitted home office furniture can then be designed with these items in mind. 
Ensure that you put your personal touch on the space 
When you have considered all of the basics and essentials, take some time to think about your own personal touch too. Just because this area will be used for work doesn't mean it can't reflect your personality or tie in with the rest of your home. Think about what inspires you and ways you can make your bespoke home office a more positive place that reflects you.
Designing a fitted home office 
Hopefully, thinking about everything mentioned above will be incredibly beneficial when working alongside a professional designer to create your bespoke home office. Knowing the basics of what you would like the space to be like will help them to ensure that their finished design meets all of your needs. 
Here at Ashford Kitchens & Interiors, we have designed and installed fitted home office furniture in numerous properties, creating functional modern spaces to work from. If you would like to speak to a member of our team about bespoke home offices in more detail, please get in touch today, where we will be happy to assist you further in this regard.