Lots of homeowners have small bedrooms that feel cramped and overcrowded. Your bedroom is supposed to be a sanctuary where we can fully relax and escape from the stresses of everyday life – but this can be difficult to achieve in a smaller space. When your bedroom is lacking in square footage, it can be hard to know how to maximise space and make it feel roomier. Fortunately, there are a few ways you can turn your compact bedroom into a spacious haven that you love to spend time in. 
Over the years, our team at Ashford Kitchens & Interiors has transformed bedrooms of all sizes. Below we have listed some of the best ways to maximise space and make your bedroom more relaxing. We specialise in creating beautiful bespoke bedrooms and we can design fitted bedroom furniture that's made-to-measure for your home. Keep reading today to learn more about how to make your bedroom feel more spacious. 
Clear the Clutter
One of the best ways to make your bedroom feel bigger is to clear out all of your clutter. Removing excess items from your bedroom will provide you with more floor space to use and you may be surprised by how much space is being taken up with clutter. More often than not, homeowners have items in their bedrooms that they no longer need or don't use on a day-to-day basis. Having a clear-out and finding somewhere new to store clothes, shoes, accessories and other belongings can really help. 
Utilise Natural Light
Many people don't realise how much of an impact light has on the overall look and feel of their bedroom. Another way to maximise space is to utilise light and let in as much natural light as possible. Natural light plays a huge role in how spacious your bedroom seems and flooding your bedroom with light can make it appear larger. Choose window coverings that are easy to open every morning and let sunlight in through your windows. You can also incorporate additional artificial light into your room, with pendant lights, lamps, wall lights and other forms of lighting to make your bedroom space even brighter.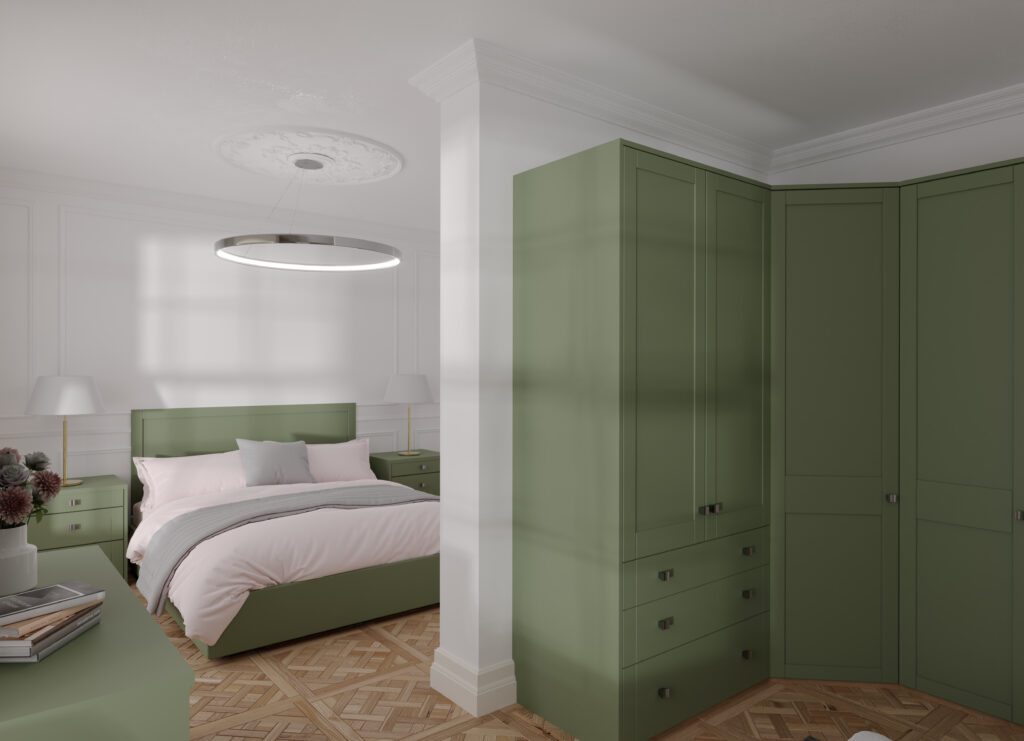 Design Storage Solutions
As well as clearing out the clutter in your room, you can also add some bespoke storage solutions to maximise space. It can be very difficult to find off-the-shelf storage solutions that perfectly fit your bedroom and they can take up a lot of unnecessary space. By designing some bespoke storage solutions for your bedroom, you can easily ensure you have enough storage without overwhelming the space with pieces of furniture. Custom-made storage solutions will provide you with somewhere to store all of your belongings and there are lots of different fitted-furniture collections to explore. 
Use Your Wall Space
Another great way to maximise the space in your bedroom is to make use of your wall space. You can install different types of shelving to help you make the most of your vertical space and this is an excellent way to add additional storage to your room, without taking up any valuable floor space. Replacing bulky cabinets and drawers with shelving can help to make your bedroom feel more spacious and inviting, and you can experiment with different layout options when you have fewer pieces of furniture.
Incorporate Mirrors
To trick the eye, you can also incorporate mirrors into your bedroom decor. When placed strategically, mirrors can reflect light and create the illusion of more space. Hanging a mirror on the wall opposite a window can help to bounce natural light around the room, making it feel brighter and more spacious. Although they can't provide you with more usable space, they can make your small bedroom feel bigger and more inviting. Mirrors also add a decorative element to the room and they can be hung to create an interesting focal point.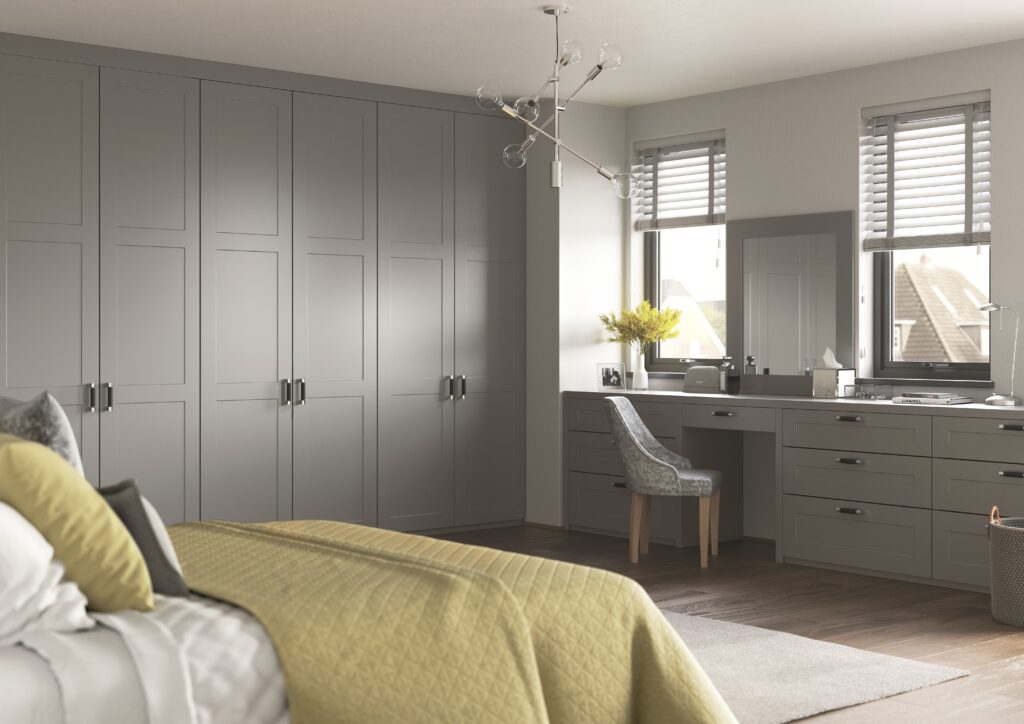 Having a New Bedroom Fitted in Ashford
Now you know how to maximise space in your bedroom, if you're interested in having a new bedroom fitted in Ashford, contact our team at Ashford Kitchens & Interiors. We specialise in designing fitted bedroom furniture for our customers, completely transforming their spaces. 
We understand that your bedroom is supposed to be your own personal haven and somewhere you can escape to after a long day at work – so it's important to create a space that you love. This is where our team can help, we can design a bedroom that gives you somewhere to unwind. Our team of furniture designers work closely with our customers, guiding them every step of the way. We are proud to be the go-to fitted furniture specialist in Ashford and you can rely on us to help you design the perfect bedroom for your home. 
Whether you'd like to have matching fitted wardrobes, dressers, chests of drawers and bedside tables, or you'd prefer to blend textures, colours and finishes for a more unique look – our experienced team will help you build your bespoke furniture to suit you. If you'd like to learn more about our fitted bedrooms in Ashford, you can get in touch with our team today. Fill out our online contact form and a member of our team will get back to you. 
You can also reach us by giving us a call on 01784 245964 or by sending us an email to info@ashfordinteriors.co.uk.