Well designed storage is essential to every room in the house. Be it the bedroom, bathroom or living room — without well-optimised storage, our lives would be chaos. There is nowhere, however, that this applies to more than the kitchen. Here the most important activities of our day take place. With so many items serving so many purposes — all used with varying frequency — we need to be on top of our storage.
As kitchens have evolved, they have become more central to the home. While many years ago they served as an isolated preparation room, separated from the rest of the house, they are now social hubs and rooms we are proud of. For this reason, kitchen storage and shelving need to be visually appealing as well as practical.
Kitchen shelving is something we all battle with and strive to get right — utilising the space we have in our kitchen while also trying to make it an aesthetically pleasing area. Only you will know what best suits you and your kitchen, but here we take you through some of the best options when it comes to kitchen shelving.

Kitchen Cabinets
Let's get the most obvious one out of the way. Kitchen cabinets with shelving inside have been the go-to option in modern kitchen design for some time, but the more traditional styles have started to become less and less trendy. Cupboards and cabinets are essential for the lower part of the kitchen, but the higher areas of kitchen shelving and storage are beginning to be defined by different trends.
If you prefer a sleek, simple kitchen and don't like to have too much on show, then cabinetry is the only option for you. The array of crockery and items used in the kitchen remain behind closed doors where clutter remains under wraps. There is no doubt that — while this isn't the most adventurous option — cabinetry keeps things simple.
Overhead kitchen cabinets are often the most dominant feature of the kitchen and you need to choose yours carefully, so they work well with the worktops and other members of your kitchen setup. Choose doors that look good with the rest of your design. High-end slab doors like the ones below make for an understated feature that goes well with modern style kitchen. They are smooth and simple, so look well-placed in the sleek design that defines the modern kitchen. Shaker kitchen doors, typified by their recessed middle panel, look better in the more traditional kitchen, such as a farmhouse style kitchen. They give the kitchen more character with a distinctive touch and timeless appeal.

Open Floating Shelving
Open shelving is becoming a more and more popular option in recent years and certainly gives the kitchen a different dynamic.
There are several variables when it comes to open shelving. Wooden or painted, bracketed or unbracketed — these are a few of the decisions you need to make, but they all present exciting options for your kitchen. With cabinetry used for the lower storage areas, the higher zones are brilliant places to have open kitchen shelving. Without enclosing head height cupboards and protrusive cabinet corners, the kitchen looks more expansive. But open shelves also inject some much-needed character into places that are often too sleek and simple.
Floating shelves are often made from reclaimed wood. Unbracketed or bracketed, or all painted white, they can look just as neat and tidy as any other shelving style. Edgier options are offered by contrasting the shelving and brackets or simply by going for live-edge shelves with slabs of wood that still have pieces of bark and natural patinas visible. These shelves make for a unique, eye-catching feature of the kitchen and give it a rustic charm.

Glass-Doored Cabinets
A third and final option is glass cabinetry with inner shelving. Glass-doored cabinets provide a wonderful mix between closed cabinets and open shelving as crockery is on show, but neatly tucked away. Glass cabinet doors are a brilliant material as they help make a kitchen look bigger than it is.
Glass doors allow you to see into the cupboards making the walls feel further away than they actually are. They also help reflect natural light around the room as they have the same effect as a mirror. This light bounces around into all corners of the kitchen, making the kitchen feel more spacious and free.
Glass is also a luxurious but affordable material. It makes the kitchen feel classy and is a glamourous and eye-catching traditional kitchen feature that can be used to complement the simplicity of modern kitchen design.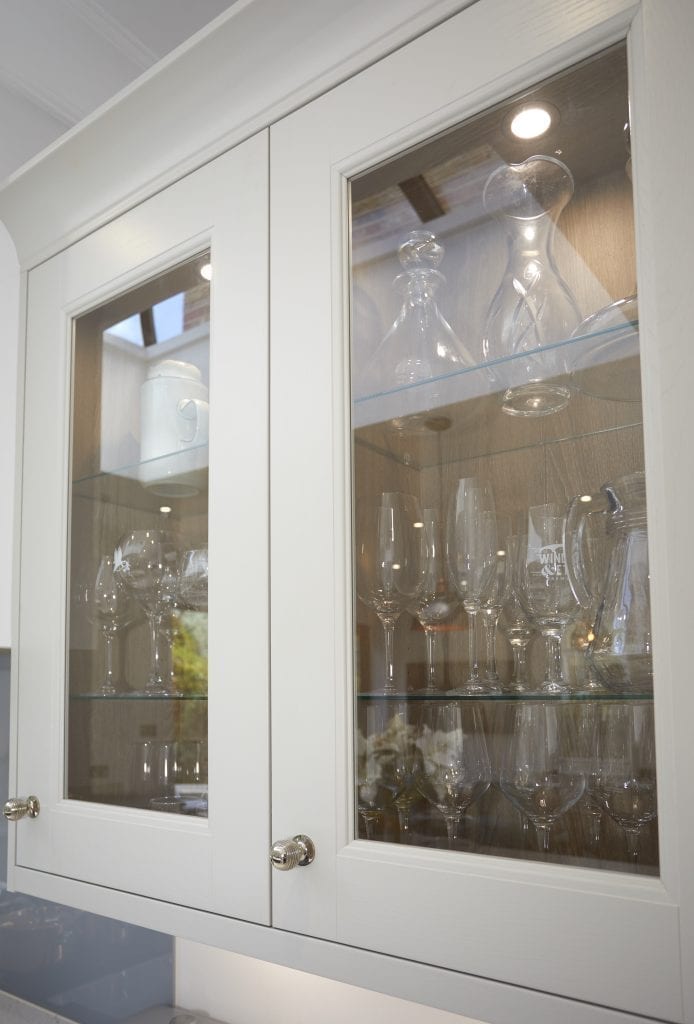 Ashford Kitchens & Interiors are bespoke kitchen design experts who have been installing all kinds of kitchens in and around London for over 35 years. To learn more about modern kitchen design and kitchen storage for your home, view our homes brochure or contact us for more information.