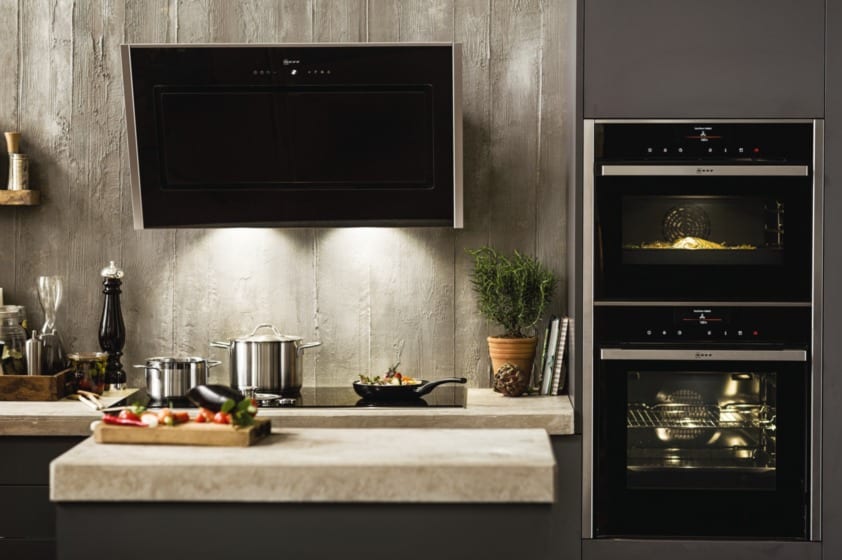 When deciding to revamp your kitchen, you will obviously have so many different things to think about. From the colour of your cabinets to the material of your worktops, there are so many different aspects of the design that will require your attention. For this reason, it is no surprise that many overlook things such as kitchen appliances until the last minute and find themselves having to squeeze them into their design. 
Whilst kitchen appliances may be easy to overlook; there is no denying that they have the ability to make your day-to-day life so much easier and with continuing advancements in technology, there are so many appliances available for your kitchen these days. Neff, in particular, is a brilliant brand to turn to when you're planning what essentials to include in your design and here are a few Neff kitchen appliances that all homeowners should know about. 
Slide & hide ovens 
You may have heard of slide & hide ovens before, and they really are a brilliant option for all homeowners, especially if you have small narrow kitchens. This oven is unique in the fact that the door can disappear under the oven cavity, so when open it won't be intruding in your kitchen space. It is worthwhile noting that Neff ovens have innovative cleaning abilities too. 
Steam ovens 
Many people use steam for cooking regularly, and whether you currently use a pressure cooker or a steamer, this Neff kitchen appliance will be a great addition to your new kitchen. Their steam ovens allow you to cook your food with part steam or 100% pure steam, meaning you won't require any other bulky appliances that take up lots of room in your kitchen cabinets.
Vacuum drawers 
Almost all families will have fridges and freezers full of leftovers, and if you're someone who usually food preps for the week too, then a Neff vacuum draw is something that you should consider. This handy little draw makes vacuum sealing easier than ever before, and you will definitely make use of this regularly no matter what ingredients you need to store. 
Warming drawers 
This is another brilliant addition for your new kitchen, and it is particularly good for those who love having dinner parties and entertaining guests. As the name suggests, this Neff kitchen appliance will help you to keep food warm after preparation, helping you to avoid serving cold food. This will seamlessly fit into your kitchen design, and it can even be combined with a Neff oven too. 
Domino hob
Often, when choosing which type of hob you'd like you to have to pick between gas, electric or induction, but the Neff Domino hob allows you to combine these different things and mix and match to create your own perfect hob. You can even have a Teppan Yaki Hob as well if you like, so you really can create something that meets absolutely all of your cooking needs. 
Cooker hoods
When you have a hob in your kitchen, it is fair to say that a cooker hood is essential and thankfully, Neff has many options for you to choose from in this regard too. All of Neff's cooker hoods are powerful yet discreet, and they look amazing too. If you don't want something traditional looking and wall-mounted, why not look at a ceiling or integrated cooker hood instead.
Staying up to date with all Neff offers and promotions 
It is fair to say that all of the Neff kitchen appliances above will be a brilliant addition to any kitchen and when you're working on a new design for yours, be sure to consider whether you'd like to incorporate any of them. Here at Ashford Kitchens & Interiors, we are a 5 Star Neff Master Partner, and you can rely on us to provide you with special Neff offers and promotions, so visit us in-store to see the full Neff range that we have available today. 
Should you require any assistance choosing your Neff kitchen appliances, our knowledgeable team will happily make recommendations as to the appliances that will suit your needs, functionality, style and budget too. Our installation team will then also be on hand to ensure that any new Neff kitchen appliances you incorporate into your design are fitted exactly as the manufacturer recommends. You can rest assured that you really are in the best possible hands