Choosing the design for a new kitchen installation is no walk in the park. Many things must be considered, including different styles and features. One popular kitchen design of today is the shaker kitchen.
You'd be forgiven for wondering what a shaker kitchen actually is. How does it differ from modern or traditional kitchen design? Where does it get its name — and why is the term thrown around so much today?
Here we take you through everything you need to know about shaker kitchens and why they're a good option in today's market.
Origins of Shaker Kitchens
The Shaker design can be traced back to England in the middle of the 18th century. The term comes from the name of a group known as the "Shaking Quakers", founded in 1747. The name comes from the unique ecstatic way the group worshipped. Soon, the Shaking Quakers fled to America due to religious persecution, where they continued to prosper. Equality for all people regardless of gender and race was a cornerstone of their faith and they based their lifestyle on the belief that simplicity, honesty, and utility should be the leading principles of life.
This way of life defines the Shaker design.
What Is a Shaker Kitchen?
Shaker kitchens lack ornamental or decorative characteristics. Luxury and extravagance were not desired elements of the Shaker lifestyle, so instead, the shaker style is characterised by a need to create furniture like cabinets and drawers from the bare essentials. Shaker furniture was simple and functional, without any embellishments or unnecessary features. Integrity and honesty are at the root of the Shaker style, which has helped it become such a timeless kitchen design.
Shaker Style Basics
The three characteristics of Shaker design are simplicity, functionality and quality craftsmanship. These are the three rules and traits of all things Shaker. Shaker design aims to be orderly and avoid clutter and extravagance. So Shaker style kitchens have a practical and reserved appearance.
One of the design types most identifiable characteristics is its simple, classically-portioned doors. Cabinet doors and drawers often have a recessed central panel and a four-piece frame. These are usually wooden or in subdued colours. Shaker design was modest, using essential materials that served a purpose and as such, sometimes used exposed wooden features.
Why Should I Go for a Shaker Kitchen?
Shaker design is minimal and elegant. Whether you want a modern, sleek kitchen or a lively cluttered traditional kitchen the modest, well-functioning shaker characteristics take a back seat in all kitchens, allowing you to customise around them as much as possible.
Shaker design is understated but elegant and so complements a kitchen's appearance without dominating. This unpretentious design has stood the test of time for a reason. There is no other kitchen style that is as timeless, versatile and universal as the Shaker kitchen. Found in high-end modern flats, quaint country cottages and grand period properties, the Shaker style is as flexible as it is functional with understated elegance and unadorned practicality.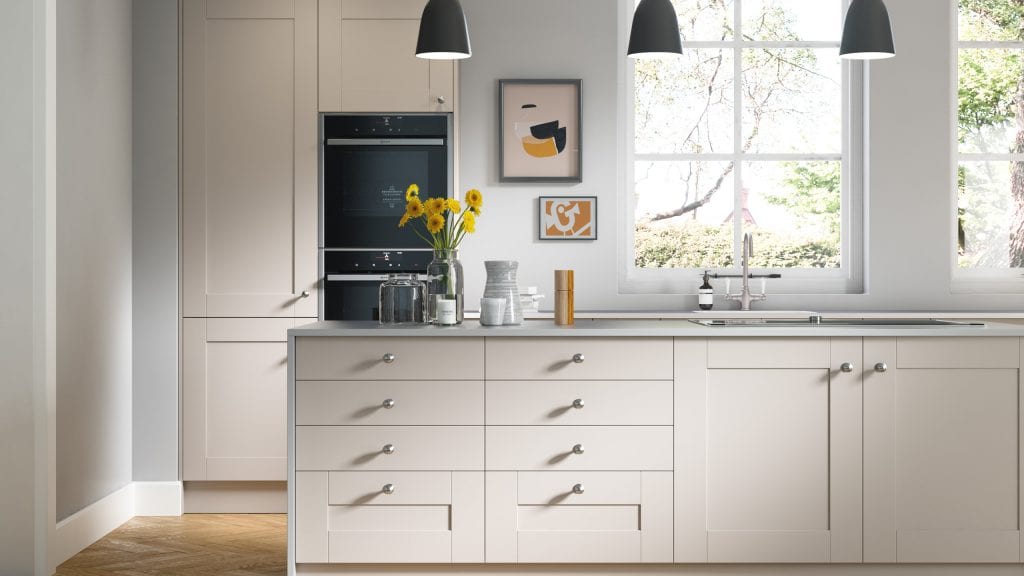 Ashford Kitchens & Interiors are bespoke kitchen design experts who have been installing all kinds of kitchens in and around London for over 35 years. To learn more about shaker style kitchens view our homes brochure or contact us for more information.