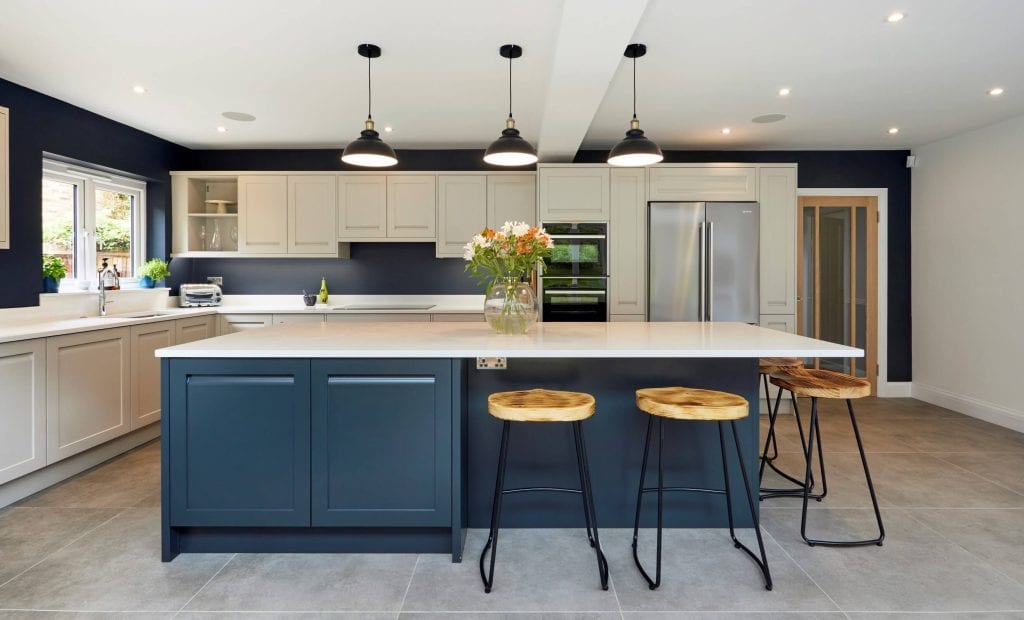 Your kitchen is one of the most important rooms in your home, but as much as it's design in terms of functionality is essential, you need to ensure the space reflects the interior of your home and the look you are looking to achieve. From a design and build perspective, kitchens are one of the most complicated rooms in the house to renovate, which is why we recommend working with a team of kitchen specialists – such as Ashford Kitchens & Interiors. 
To help you understand why you should be working with a specialist team during the remodel of your kitchen, our team has put together a list of benefits that you should be aware of before starting any work yourself. 
Extensive design experience
Here at Ashford Kitchens & Interiors, our designers have a wealth of experience in their field and understand how to create a beautiful space that fits your style. We have the knowledge to bring your dream space to life, taking into account current trends, styles, and colours that work well in kitchens. You can rely on us to guide you through any potential issues, whilst working within your initial budget, providing you with professional assistance from the offset. 
Discussion of ideas
By working with a team of kitchen specialists you have the opportunity to actively discuss your opinions and ideas, collaborating on the best possible approach, which can be extremely helpful in aiding you to visualise the end results. If for any reason your idea isn't feasible, you can work with our team to get your advice to work out an alternative solution. These discussions can also help us to understand your personal preferences in terms of design, as we can offer an array of products that fits your specific needs.
Functional design skills
As we have already touched upon, a beautiful new kitchen needs a functional design behind it, which is where our team can assist. Choosing beautiful finishes and fixtures for your new kitchen is great, but if you get the layout wrong this can have a detrimental impact on how you can use your space. These mistakes are often made due to a lack of planning, but with the help of a professional team of kitchen designers, your team can be the best room in your house – something you are truly proud of. We can plan accordingly and allocate space for your appliances efficiently, guiding you through the kitchen remodeling process the entire time. 
High quality craftsmanship
A professional kitchen designer has a tremendous amount of resources available to you, so you can guarantee that our product selection will last for many years to come. With a whole team working on your project, you can expect your kitchen renovation journey to be conducted in concise and manageable steps, ending with a stunning kitchen which your family will enjoy for many years. There's no shame in getting some expert advice, especially when undertaking a massive project such as a kitchen renovation. Many homeowners say that working with their kitchen designer was one of the best parts of their remodeling project, as the results were exceptional. 
How can Ashford Kitchens & Interiors help you?
As a company, we have been established for over 25 years and proudly offer a wide range of kitchen designs – from modern collections, to more traditional, we would be more than happy to accommodate your specific needs. One of our designers can visit your property to measure the area, addressing any practical considerations and what particular aspects of the design you would like to retain or improve. We pride ourselves in being able to offer a fully project managed service, providing a start to finish service. 
To have a conversation with a member of our team, please do not hesitate to give us a call on 01784 245964. Alternatively, you can complete the contact form on our website and someone will get back to you as soon as possible. Our reputation is built on repeatedly high levels of customer satisfaction, ensuring that we get everything right for our clients each time. We also allow you to explore your options and figure out the best available to you for your space.