A big part of designing a new kitchen is finding the right colour scheme. The colours you use will have a huge impact on the look and feel of the space, and they can help to create a kitchen that you want to spend time in. Ultimately, to create the right environment for your home, you need to ensure you're choosing the right colour scheme.
But what is the right colour for your kitchen? White kitchens have been popular among homeowners for several years now, but that doesn't mean it's right for you. Whilst white kitchens have an air of sophistication about them, there are lots of other options available that might work better for your home. Here at Ashford Kitchens & Interiors, the sky's the limit with our custom colour options and you can have the colour scheme you've always wanted when you design your new kitchen with us. 
If you're looking for some colour inspiration, then we'd love to walk you through some of the best colour schemes for 2023. We love working with these colours and we'd be excited to see how you'd harness them when creating your dream kitchen. 
Grey
When you like monochrome colour schemes, but you want something slightly softer, then you might want to consider grey. Grey is an excellent colour for kitchens and it works brilliantly with almost any style of kitchen. Whether you're leaning towards a traditional kitchen style with a darker charcoal grey or a sleek modern kitchen style with a paler dove grey, this colour scheme can work really well in your new kitchen. 
Grey is also incredibly versatile and easy to accentuate, it matches almost any colour you can think of, from pale blue to a rich burgundy. Not only does this give you a chance to express your personality in your current renovation, but it also gives you flexibility in the future. If you get bored of your accent colours, it's easy to change them for something new. You can freshen up your kitchen without needing a full renovation, which is always beneficial.
Green
Green is an excellent and underrated choice for kitchens, particularly if you're looking to create a relaxing and welcoming atmosphere for your space. There are so many shades that you can choose from but we particularly like the deep, forest and emerald greens that make a design statement. These dark green colours are particularly popular for shaker-style kitchens as they complement the simplistic design. They match classic timber worktops and floors really well too, creating a homely, yet stylish feel.
There are other options for a green colour scheme in your kitchen as well. Lighter, sage greens are perfect for country and cottage-core kitchen styles. They offer a softer image and can help create the perfect place for you to relax. These different shades of green are a timeless choice and they will continue to look every bit as stylish in three decades as they do right now.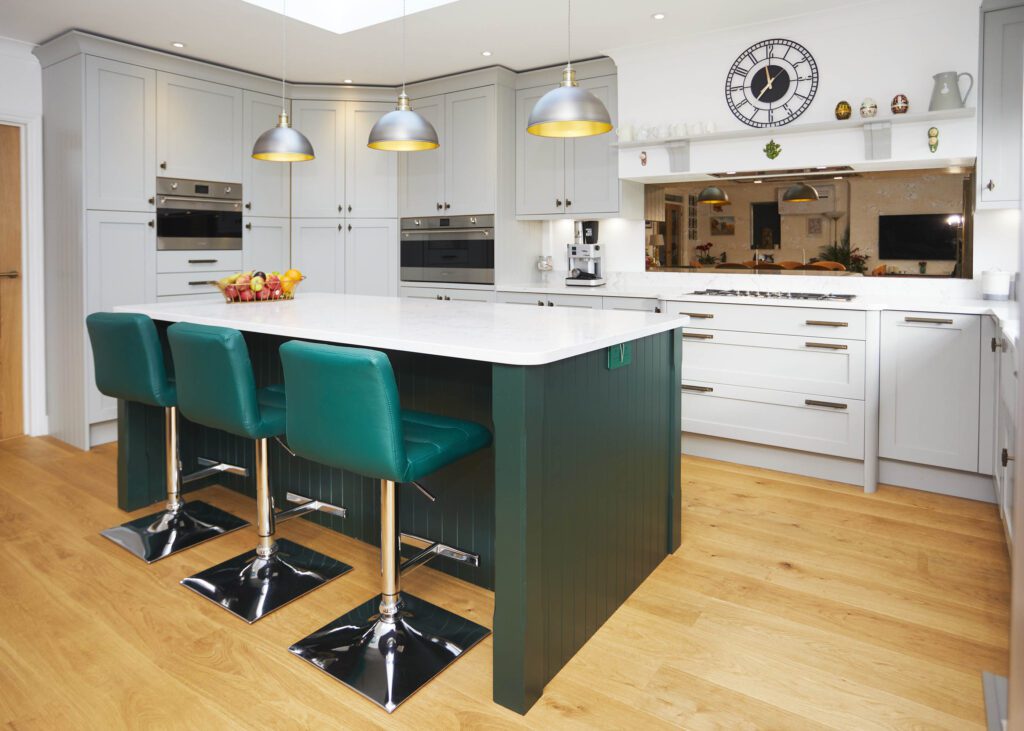 Blue
If you're looking for the same level of sophistication as a white or grey kitchen but are hoping for a more forgiving shade, then we would recommend blue. Inky blues are especially popular as they pair nicely with light woods and cream countertops, which help to create a gorgeous balance across your kitchen. Blue is quite a versatile colour too, which is why it makes our list of 2023 colour schemes. It's an easy colour to accent and always looks gorgeous.
The wide variety of blue shades available makes it easy to find a colour that you adore. For many of our clients, powder blue is considered a go-to for smaller kitchens as it can help to create the illusion of space. On the other hand, greener variations like teal are popular for eclectic and vintage kitchen styles, particularly when highlighted with brass or gold hardware. If you're looking for a kitchen colour scheme that is easy on the eye, you shouldn't hesitate to pick up some blue colour swatches. 
Cream
Although white colour schemes have been the gold standard for minimalist kitchens for years, white can be quite a harsh colour. With the wrong lighting, a white kitchen can be overwhelming and not every type of finish works well with this colour. Fortunately, you don't have to give up on your desire for a light-coloured kitchen because we have the perfect alternative; cream.
Neutral colours are a good choice for any kitchen, big or small. Cream is a much more forgiving shade than white because it has significantly warmer undertones. It's an excellent choice if you like rich metallic hardware too, such as copper door handles. The majority of neutral colours pair well with a variety of other materials, from timber floors to ceramic patterned tiles, and a simple cream base is an ideal foundation for a new kitchen. Much like grey, cream is very versatile, making it perfect for anyone who likes to change up their accessories throughout the year.
Pink
You'd be forgiven for thinking that perhaps the trend of pink kitchen colour schemes has run its course but actually, pink really is just getting started. It's one of our favourite colours for 2023 especially as it pairs so nicely with many of the other colours on our list. You can use lighter pink shades to balance out some of the darker colours that are currently popular in kitchen designs. 
This colour scheme isn't for everyone, but if you're looking to push boundaries with your interior design, a pink kitchen could be perfect for your home. Using pink colours can be a fun and cheerful way to brighten up a space. It can also add a sense of warmth and comfort, making your kitchen an inviting place to spend time. You may be surprised by just how adaptable pink can be and it shouldn't be ruled out when choosing a kitchen colour scheme.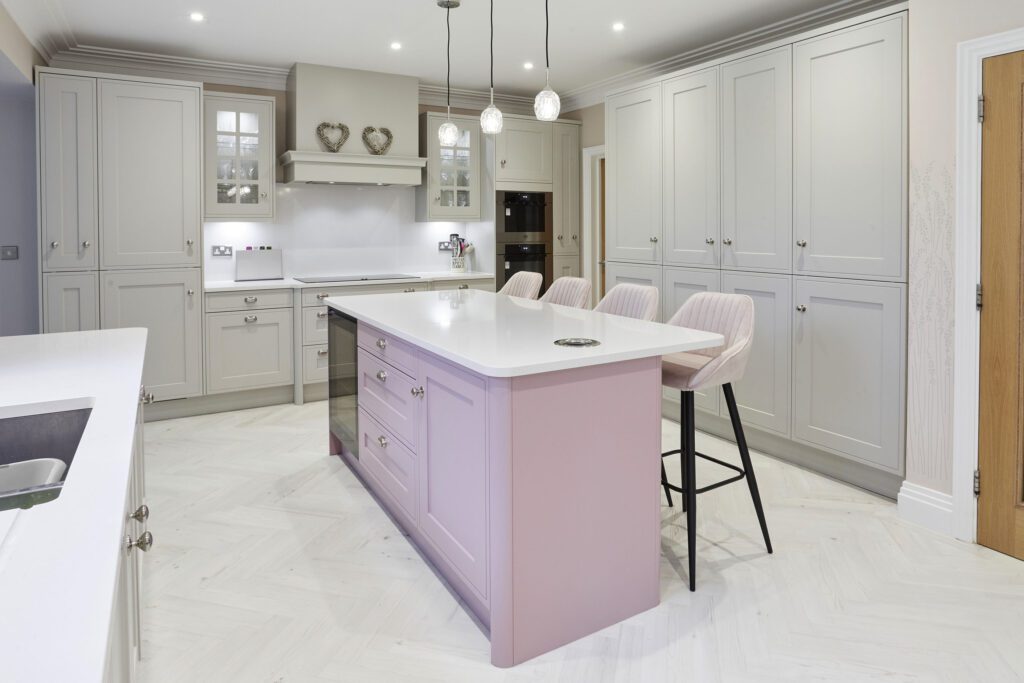 Creating a Bespoke Kitchen Design in Middlesex
If any of these colour schemes have caught your eye, then your next step is to get in contact with our team. We can help with your bespoke kitchen design in Middlesex and explore a range of different colour options with you. Whenever you're working on a renovation project, we advise that you pop into one of our showrooms to see a few different colour schemes in person too. This can reassure you that you're making the right choice for your new kitchen.