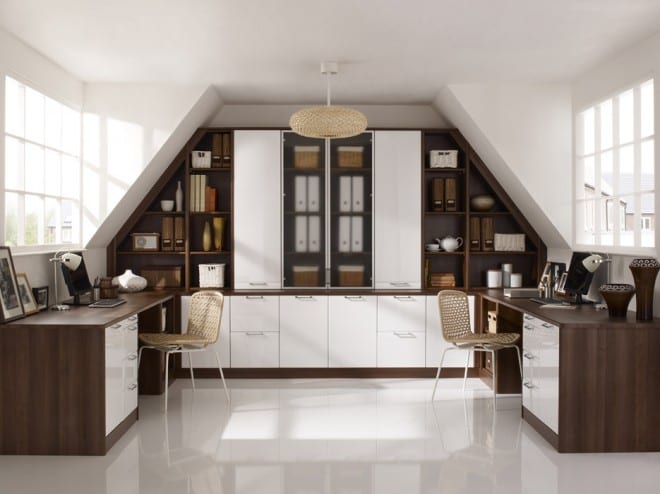 Employees from a range of different industry sectors are now taking advantage of the many benefits there are to working from home and setting up home offices that enable them to work efficiently and effectively without leaving the house. It is likely that the number of people who are doing this will only increase over the next few years.
If your employer is enabling people to work from home and you have recently decided that you would like to do so, but you need to set up a home office, keep reading today. Below, our team of experienced interior designers here at Ashford Kitchens & Interiors have put together an essential guide that can help you ensure you create the best possible work environment in your home. 
Try to separate work from home
When working from home for the first time, it can be difficult to separate your work life from your home life. Having a dedicated space for your home office will help make this much easier, so the first thing you need to do is choose where you're going to set up the office. 
Lots of people will opt to use a spare room inside or even a converted shed outside, however, don't worry if you don't have a whole room you can use. You can set up a smartly fitted home office in any spare corner of your house, just take your time choosing where. 
Ensure you have everything you need
Depending on the type of work you will be doing at home, your needs will differ from others and the office you set up may look slightly different from any inspiration you've seen. Think about what is essential for you to be able to work properly from home. 
When ensuring you have everything you need, don't forget to think about things like printers, for example. If you require office essentials like this, think about where you're going to put them in as ideally, everything should have a home so the space isn't cluttered and messy. 
Invest in good quality comfortable furniture 
You will be spending a large percentage of your day in your home office, so it is important that you're comfortable. Of course, how comfortable you are will impact your productivity too, so ensure that you invest in the best furniture, this will probably be the biggest investment you make. 
When setting up this space, it is always good to look at fitted home office furniture, this way you can easily make the most of the space that you have. Also, you should ensure that your office chair is something you'll happily sit on all day. 
Don't forget to make the space your own 
Once you have started to set up the place, your fitted home office furniture is installed and you have everything you need, it is time to make the space your own. Just because it is a home office doesn't mean you can't accessorise and create somewhere you love to spend your time. Add some pops of colour, bring the outdoors in with plants, and hang inspirational pieces of art on the walls. Do whatever you need to do to make sure the space reflects your personality. 
Setting up a home office 
There is no denying that no matter what your job may be, when you follow the guide above, you can ensure that you're creating a home office that is able to meet all of your individual needs and requirements. It is always worthwhile taking your time to ensure that a room like a home office is perfect so that when it comes to working from home, you know you will be just as productive as you would be if you were still at work. 
If you require some assistance setting up a home office, our team here at Ashford Kitchens & Interiors will happily help you. We can provide you with custom designs and fitted home office furniture installation services and you can trust that you're in safe hands with our talented team. If you would like to view some of our home office collections to get a feel for the types of spaces we can create, visit our website today. Of course, if you have any questions at all, don't hesitate to get in touch, we will happily discuss things with you further.