Finding fresh and modern storage ideas for your bedroom can be a challenge. Scrolling through Pinterest can bring up some interesting ideas but they're often only useful for certain people. Here at Ashford Kitchens & Interiors, we know that storage solutions need to be tailored to each specific aesthetic. Contemporary fitted bedroom furniture is a great way to find storage solutions for almost any space and that is what our team specialises in.
Most bedrooms are wasting so much potential storage space with ill-fitting pieces of furniture and traditional free standing wardrobes and beds without storage in them. If you're looking for the ideal storage solutions for your bedroom, here are just a few you should consider. We appreciate, some of these are not going to be the right choices for everyone, and if you'd like to discuss these more, then we would be happy to consult with you. 
We'll be able to help find the most practical storage solutions for your bedroom and design the ideal contemporary fitted bedroom furniture for all your needs. Below we have discussed some practical storage solutions for your bedroom.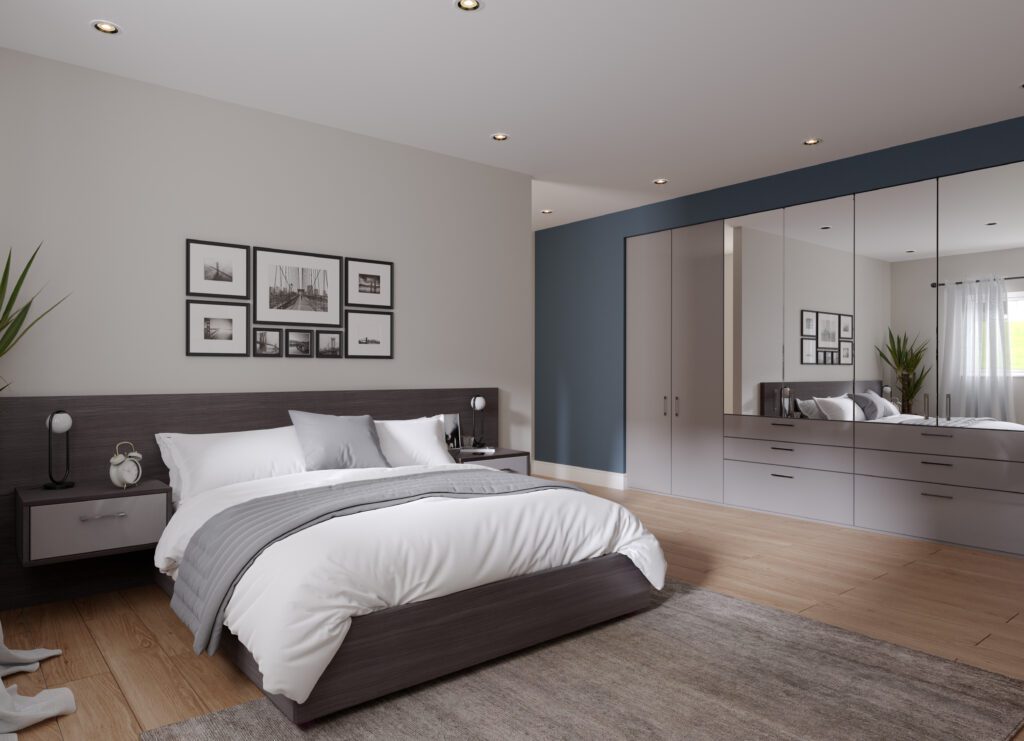 Fitted Wardrobes
Fitted wardrobes are arguably one of the best decisions you can make for storage in your bedroom. They are specifically designed to help you make the most of every inch of space you have in your room. This specific piece of contemporary fitted bedroom furniture will harness the dead space that freestanding wardrobes creates to offer you more, organised storage space. 
While a fitted wardrobe can be challenging to fit into your current space, in the long run you'll be totally satisfied. Fitted wardrobes are specifically designed with your belongings in mind. If you need more hanging space that can be designed into your wardrobe, and if you need space for bags or accessories that can also be included. This will create additional space within your bedroom. 
Fitted wardrobes are perhaps one of the most important and valuable pieces of storage that you can invest in.
Baskets
If you're looking for something a little less grandeur than a fitted wardrobe then perhaps you might want to consider utilising baskets. Baskets are a versatile and transportable former storage that you can use for anything anywhere in your bedroom. They're fantastic wardrobe organisers but they're also great for bookshelves and for Vanities. Baskets are a small storage solution that can make a big difference and not just to the layout and organisation of your room.
Baskets are a storage solution that also doubles as an aesthetic choice. The use of woven baskets adds layers of texture and colour to your bedroom space that add layers to the room's design. If you're looking for a boho style or even minimalist, the edition of these baskets can elevate a space.
Floating Shelves
Whether you're an avid reader or you just want somewhere to store your accessories, floating shelves are a great choice. They offer you storage space without the additional bulk of an entire bookcase. They can be installed almost anywhere in your room and a great way to make you otherwise unused space. Not only does this mean you have an additional place to store items but it also helps to add to the aesthetics of your room.
The great thing about floating shelves is that many of them are designed to look like they are hovering rather than attached to any sort of structural device. This looks really great and they are still strong enough for you to place books or other items you would like access to. 
The only drawback with these shelves is that they are not hidden storage, all of the things you store on the floating shelves will be visible. However, you could circumvent this problem by adding a few baskets to the shelves to maximise your storage space and hide things you don't want to be seen.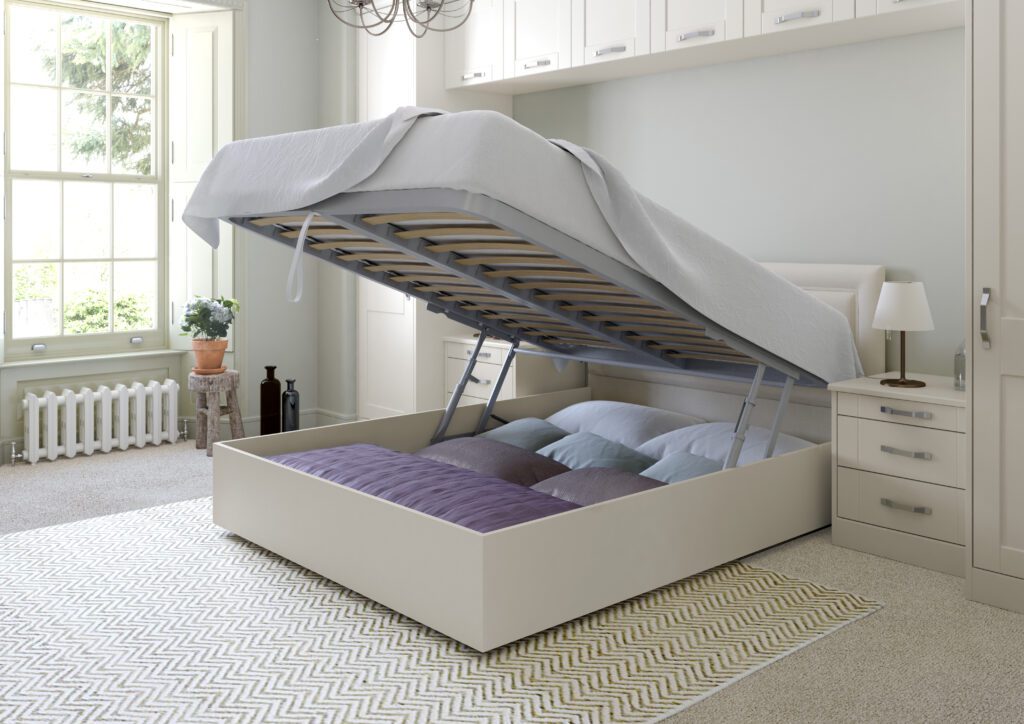 Underbed Storage
Another way for you to create more storage space in your bedroom is to purchase a bed with storage. This is an excellent way for you to expand the amount of storage that you have in quite a discreet manner. Underbed storage is a great place to keep clothes, duvet covers and sheets, and even spare bedding if you need it.
There are so many different types of underbed storage for you to choose from. You can choose a bed frame with specifically built-in drawers, which are easy to access and work with. Or you could choose a bed frame that lifts up the mattress, allowing you to access the space underneath. These types of bed frames offer you more storage but they are slightly less convenient to access. It's really up to you which you prefer. If you're not entirely sure, we'd recommend visiting our showroom or a specific bed retailer to get a feel for how they work.
You might also want to consider which of the two will actually work in your space. Smaller rooms tend to benefit from beds that lift up, rather than drawers, which can be stopped by other items of furniture. The size of your bedroom and the flow of the space should be taken into consideration when you're planning your new storage solutions. 
What are the Next Steps?
The key to creating good storage solutions in your space is really making the most of the space that you have. And this is something that we can help you with and we'd be happy for you to properly consult with our team of specialists. You can pop into our showroom to have a chat or you can call ahead to make sure that someone is available to speak to you.