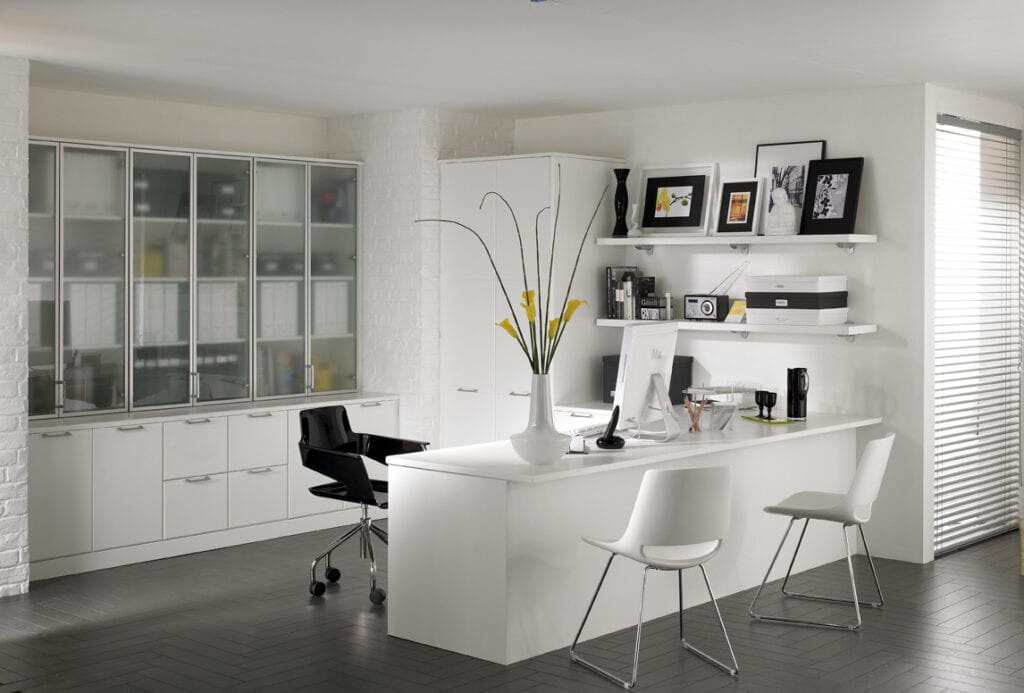 Working from home is becoming increasingly common and flexible working is something that many businesses offer. For this reason, lots of homeowners are wanting to create some sort of working area in their home, even if this can't be a full home office. Utilising space for working as well as living has never been so important and many are considering ways that they can transform the smallest spaces into effective working areas. 
Thankfully, with a wide range of bespoke fitted study furniture available to purchase, it is really easy to create a home office space that doesn't just meet your needs but that also fits in with the rest of your home too. If you're not sure where to start when it comes to designing fitted study furniture and you're struggling to plan your work environment, keep reading today. Below is a list of things you should consider when designing this type of bespoke study furniture. 
How much space do you require?
Before you start thinking about furniture, you need to consider how much space you require for your home study. Think about what your work entails and how much equipment you use, this will help you to figure out realistically how much space you need. You want to ensure that you're able to work efficiently and you aren't restricting yourself. 
Where is best to put the study area?
Once you have an idea of the required space, you can start to think about where the study area will go. Even if you have a spare room, consider where you want the bulk of your fitted study furniture to be installed. This will help you to envisage what the space will be like once transformed, you can then ensure that it will work with the other uses you have for the room.
Do you need a full-sized desk?
When starting to design your bespoke study furniture, one of the first things to think about is whether you're going to need a full-sized desk. Often, the desk is the centre point of any fitted study furniture, so knowing the size you need will help you to start the design process. When considering the desk area, think about both the width and depth of the surface required. 
Are you going to require lots of storage space?
Storage solutions are absolutely essential in a home office and they will help you to keep the space clutter-free. Take some time to consider how much storage space you're going to need and what items you're wanting to store. This will help you to ensure that your fitted study furniture is suitable for all of your individual needs in this regard. 
Do you have any specific design wants/needs?
When designing your bespoke study furniture, functionality isn't the only thing to think about. You should take some time to consider whether you have any specific design wants/needs. If your fitted furniture is going into your dining room or living room, think about the existing decor and furniture, this will help you to ensure that you love the look of your study furniture too. 
Are you looking for any other pieces of furniture?
Aside from the standard things you expect in a piece of bespoke fitted study furniture, such as a desk and some cupboards, think about whether you're in need of anything else. These items don't necessarily have to be for storage purposes either, if you're wanting to completely transform a room into a home office, simply think about what else you'd like in the space.  
Designing your bespoke fitted study furniture
All in all, when taking the time to consider everything mentioned above you will find it much easier to begin designing your fitted study furniture. You can ensure that nothing is overlooked in terms of design. The beauty of bespoke study furniture is that you will never need to worry about it not working perfectly in your home. Of course, if you need any assistance at all, our team here at Ashford Kitchens & Interiors will gladly help. 
We have had the pleasure of designing, manufacturing and installing fitted study furniture for many homeowners and each piece we create is completely unique. With lots of home office furniture ranges to choose from, no matter what you have in mind, we will be able to create bespoke study furniture for you that meets all of your needs and requirements. If you'd like to speak to a member of our team, don't hesitate to get in touch.