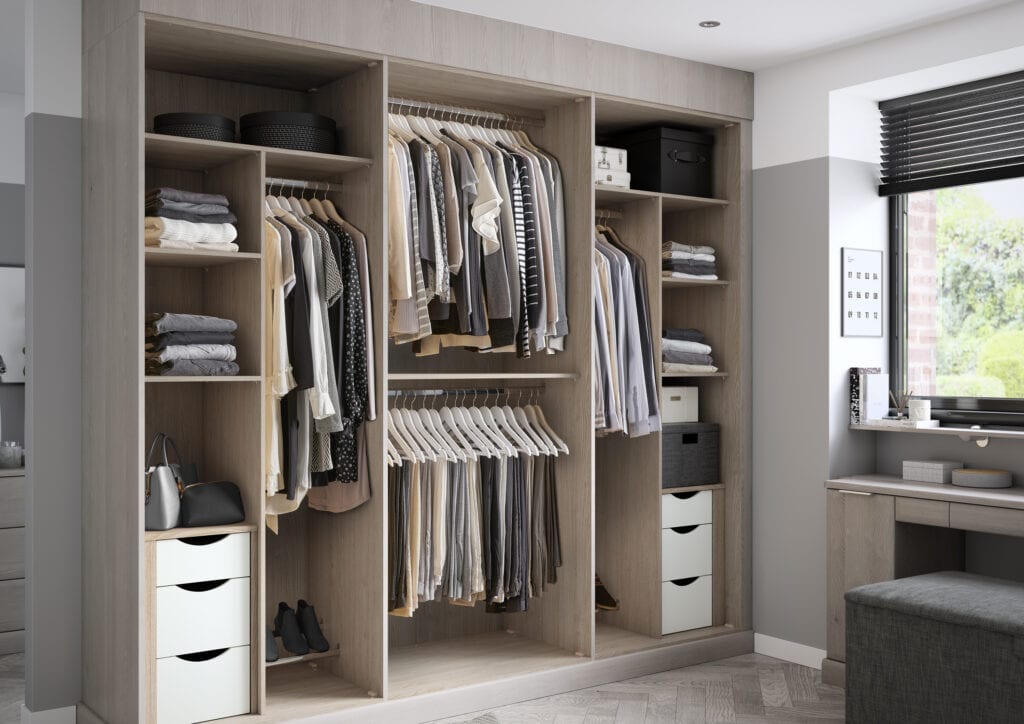 Purchasing furniture isn't necessarily the most exciting part of a bedroom revamp, especially if you're struggling to find the right pieces for your new bedroom. However, when you decide to design your own contemporary fitted bedroom furniture, it can be a much more enjoyable job. You have the ability to create your dream furniture from scratch and watch your designs come to life, which most definitely is exciting.  
It is fair to say that there are numerous benefits to opting for fitted bedroom furniture, especially bespoke fitted wardrobes, and it has the ability to transform your overall bedroom design completely. For this reason, it is so important to make sure that you're happy with all aspects of your contemporary fitted bedroom furniture before it is manufactured and installed. So, to help any homeowners ensure that nothing is overlooked when they design their new bedroom furniture below is a list of the essential things you need to think about. 
The pieces of furniture that you require 
Of course, this is one of the first things to think about whenever you're designing bedroom furniture. You may already have a list of the pieces that you're interested in having in your room, so just ensure that everything you require is on this list. Also start to think about where these different pieces will be best situated, this will be very helpful when you're designing. 
The overall style of the furniture
Whilst you may be opting for a contemporary bedroom and looking at furniture that will fit the space, you should still consider the overall style of the bespoke furniture you're designing. Think about things such as whether you want panelling on your furniture doors/draws or not. It can be beneficial to refer back to inspirational images at this time to help you figure out your style.
The colour scheme that you're interested in
This is such an important part of the design process, and the colour scheme that you choose will make such a huge difference to the finished look of your new contemporary fitted bedroom furniture. Think about the colours that will work best with the rest of your bedroom's interior design and be sure to look at all available shades/tones too. 
The finish of the pieces 
All of the furniture you design can have various finishes, from gloss to matte, so think about what you'd like in your bedroom. Remember that you don't necessarily need to have the same finish on all pieces, so consider whether you'd like to mix and match. Also, think about your fitted bedroom wardrobes and whether you're interested in something like mirrored sliding doors instead of standard doors with your chosen finish. 
The interior layout of the furniture
Be sure to spend some time thinking about the inside of your new furniture too, especially your fitted bedroom wardrobes. It can be easy to get carried away with the exterior and overlook the fact that you have complete control over the interior layout too. Consider what you want to store in your furniture and how you can ensure your needs will be met.
Designing contemporary fitted bedroom furniture
Hopefully, by taking the time to think carefully about everything mentioned above whilst designing your new bedroom furniture, you can ensure that the finished look of both your furniture and your bedroom as a whole is exactly what you'd hoped for. Of course, if you require any assistance at all during the design stages, our team here at Ashford Kitchens & Interiors are more than happy to help. 
We are incredibly proud to be the go-to fitted furniture specialists in Middlesex and Buckinghamshire, and you can trust that you will receive nothing but exemplary service when you turn to us. Our talented team will help you bring your contemporary fitted bedroom furniture designs to life and ensure that they meet all of your needs and requirements. Don't hesitate to contact us for a free no-obligation design visit and we will gladly consult with you about your bedroom design ideas.