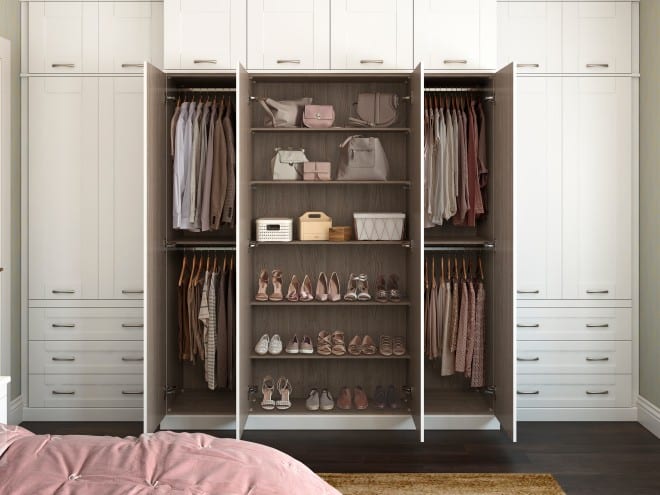 It is becoming increasingly popular for homeowners these days to have contemporary fitted wardrobes with sliding doors in their bedroom and there is no denying that there are many benefits to opting for this over freestanding wardrobes. It goes without saying that the wardrobe is an important piece of bedroom furniture and you will want to ensure that when choosing a contemporary fitted wardrobe, it is able to meet all of your needs. 
Whilst, in general, built-in wardrobes tend to be much bigger than any freestanding alternative available, it is important to use this extra space effectively. Thankfully, when working with an experienced company to create your bespoke contemporary fitted wardrobes, you can tailor the interior of the wardrobe as much as you can the exterior. There are so many different ways that you can make your wardrobe perfect for you, and if you're unsure where to even start, below are some tips for planning your wardrobe's interior. 
Think about what you're wanting to store in the wardrobe
Whenever you're planning the interior of a wardrobe, the first thing to think about is what you plan on storing in this space. For example, many choose to not only store clothes in their contemporary fitted wardrobes, but they also put things like shoes and bags in there too. 
Think realistically about what you're planning on storing in your wardrobe and how much space you're likely to need for each type of item. If you're sharing the wardrobe with someone else, also think about their needs.
Break down the item categories needing storage
Now you know roughly what you're going to be storing in the space, break down each individual category further. So, think about how many items of clothing you will be folding and what needs hanging, also consider longer items, like coats, that will require higher hanging as well. 
You should do the same for your shoes too, as it is likely that high heels may require slightly different storage to trainers and flat shoes. Knowing the ins and outs of these categories that are going to require the most storage will help you to ensure that everything has an adequate home. 
Consider all of the storage solutions available
When beginning to plan the wardrobe's interior, make sure that you're looking at all of the different storage solutions available. Many choose to have fitted wardrobes with interior drawers and hanging rails, but there are lots of other options that may be beneficial as well. 
From shelves and drawer organisers to shoe racks and pigeon-hold shelving, consider which option will be most suitable for the items you're looking to store. The beauty of contemporary fitted wardrobes is that you can mix and match all of these storage solutions too. 
Bear in mind potential future needs
It is easy to simply plan for the items that you have in your wardrobe currently, but it is important to consider your future needs too. High-quality wardrobes can last for many years to come, so you want to ensure that your interior is adaptable to meet all of your ever-changing needs. 
When thinking about potential future requirements, also think about seasonal items. If you store your winter clothes elsewhere during summer, think about what space you're going to require in your wardrobe when it gets colder and vice versa. Planning ahead can make life much easier. 
Creating the perfect wardrobe interior 
Hopefully, these tips can help you when you're trying to plan the interior of your contemporary fitted wardrobe. You will thank yourself in the long run for taking the time to consider everything mentioned above and not simply choosing a standard fitted wardrobe with interior drawers and hanging rails. When doing so, you will easily be able to ensure that your wardrobe's interior is able to meet all of your individual needs and requirements. Of course, if you're ever in need of assistance in this regard, an expert fitted furniture design will be able to assist you further. 
Here at Ashford Kitchens & Interiors, we have a skilled team who will be able to help you with not only with the exterior design of your contemporary fitted wardrobes but the interior layout too. We pride ourselves on being able to design bespoke fitted wardrobes to suit any bedroom, so even if you have an irregularly shaped room, sloping ceilings or alcoves, we will work with you to create a perfect solution. If you would like to speak to a member of our team about your fitted wardrobe requirements in more detail, don't hesitate to contact us today.