One of the most exciting parts of refurbishing your bedroom is purchasing new furniture. From wardrobes to dressing tables, the pieces of furniture you choose can completely transform the look and feel of your room, not to mention make your day-to-day life much easier, and there is such a brilliant selection of furniture on the market. 
When you're furnishing your bedroom, you will have two options to choose from; freestanding furniture and fitted furniture. Although there are some benefits to freestanding furniture, fitted furniture tends to be the most popular solution for contemporary bedrooms. No matter what pieces of furniture you require, having them designed and built specifically for your space is advantageous. Below we have explored some of the main reasons why contemporary fitted bedroom furniture is so sought-after these days, highlighting why it is a brilliant choice for any bedroom, whether this is a baby's nursery or a master bedroom. 
Utilises every inch of the room 
Not every bedroom is perfectly square or rectangular and it isn't uncommon for there to be alcoves and sloping ceilings that can make purchasing furniture more difficult. One of the biggest benefits of fitted furniture and one of the main reasons why it's so popular is because it allows you to maximise every inch of space in your bedroom. 
You can install fitted bedroom furniture anywhere and regardless of how awkward a space may seem, it can be transformed into a clever storage solution. An experienced furniture designer can help you to create contemporary furniture that fits perfectly in your room and they will know how to make the most of space that would otherwise be wasted.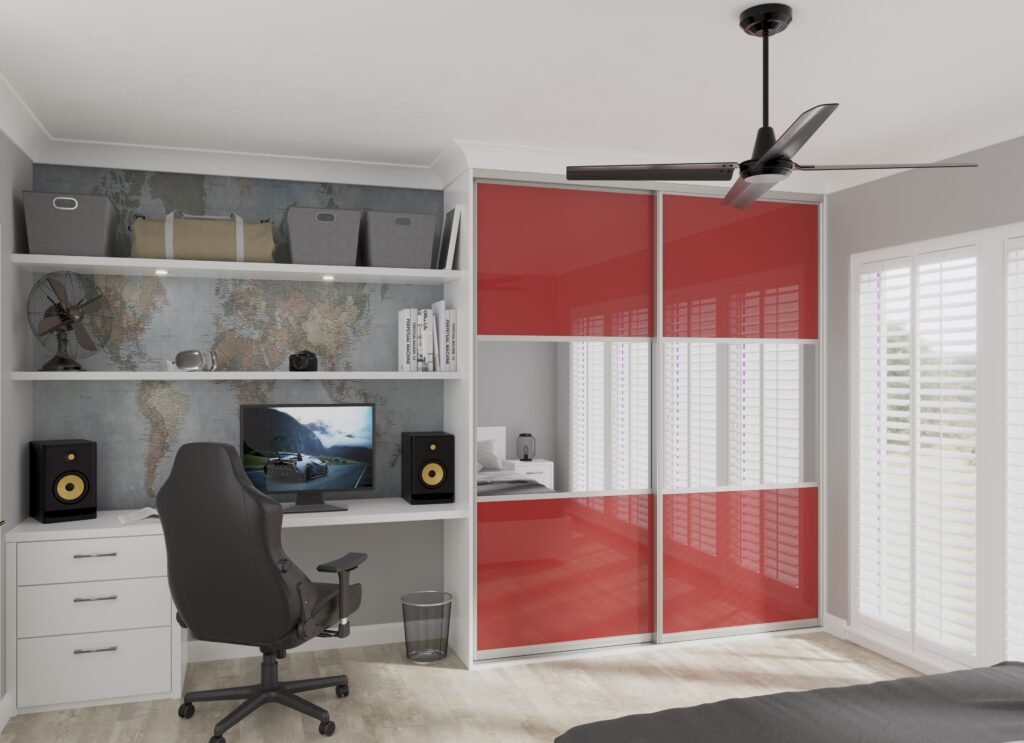 Increase your usable floor space
When installing contemporary fitted bedroom furniture, homeowners can easily make the most of their vertical wall space. Floor-to-ceiling fitted wardrobes, for example, are very popular and they provide ample storage space. Using the wall space in your bedroom can prevent you from needing as many pieces of furniture which will, in turn, free up some of your floor space. 
Fitted furniture is perfect for small bedrooms that don't have space for lots of bulky furniture and it won't take up as much floor space as freestanding alternatives. It is likely that you will be able to explore different layout options when you're designing bespoke furniture too, enabling you to find a solution that makes your bedroom seem as spacious as possible. 
Personalise each piece of furniture
A huge benefit of fitted bedroom furniture is that it can be tailored to meet all of your needs and preferences. Unlike when you purchase off-the-shelf furniture, you won't have to compromise when you're designing fitted solutions and you can ensure that every element of the bespoke design is perfect for your bedroom and your intended use. 
You will be able to customise both the exterior and the interior of your contemporary fitted bedroom furniture. There are several interior solutions to choose from when you're designing a wardrobe, for example, and you can mix and match these to make sure you have somewhere convenient to store all of your belongings.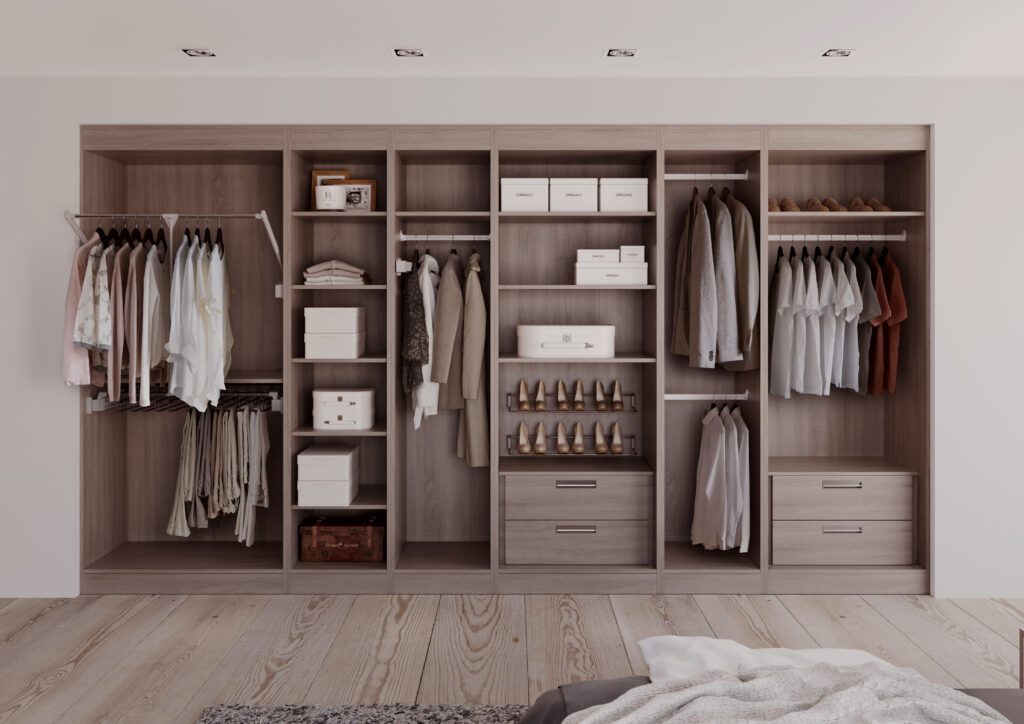 Reduces bedroom clutter
Having suitable storage solutions in your bedroom is key to keeping the space clutter-free. Designing fitted furniture is the best way to ensure your bedroom future meets all of your storage needs and you won't have to worry about not having suitable space to store all of your clothes, shoes, accessories and other belongings. 
As mentioned above, there are lots of interior solutions available for your fitted furniture and having things such as shoe racks and tie racks will make it much easier for you to pack your belongings away. You will easily be able to arrange all of your belongings in the most practical and convenient way according to your preferences too. 
Enhanced quality and durability 
When compared to off-the-shelf furniture, contemporary fitted bedroom furniture is of much higher quality. Your furniture will be made to order here in England using the finest materials and you can guarantee that the finish will be exceptional. Not only will the furniture look more luxurious, but it will be more durable too, enabling it to withstand general wear and tear. 
Bespoke furniture is an investment and when you have fitted furniture installed by a team of professionals, it's unlikely that you will have to replace it any time soon. You can trust that the furniture will be built to last and thanks to its superior quality, you won't have the hassle of coping without key pieces of furniture whilst they're being repaired or replaced.  
Prevents shopping around 
Furnishing your bedroom will be much quicker and easier when you choose to install fitted bedroom furniture. You won't have to spend hours browsing homeware websites or visiting brick-and-mortar stores trying to find pieces of furniture that meet all of your needs and you can simply design pieces that are perfect for your bedroom. 
It isn't uncommon for homeowners to struggle to find matching pieces of furniture that are the right size for their bedroom and also within their budget, making furniture shopping a chore. However, designing bespoke fitted solutions will be completely stress-free and you can enjoy bringing your furniture ideas to life. 
Speaking to a specialist about contemporary fitted bedroom furniture
All in all, it is easy to see why fitted furniture is so popular and if you're refurbishing your bedroom, it is undeniably worthwhile looking into contemporary fitted bedroom furniture in more detail. If you would like to find out more about creating the perfect furniture for your bedroom, feel free to get in touch with our experienced team at Ashford Kitchens & Interiors. We specialise in fitted kitchens, bedrooms and home offices, and we will be happy to discuss your dream bedroom design with you in more detail. 
For many years now, we have been helping homeowners transform the most important rooms in their homes and we can assure you that you will be in the best hands when you enlist our help with your home improvement project. At Ashford Kitchens & Interiors, we offer a complimentary design consultation and we can help you bring your contemporary fitted bedroom furniture to life with a computer-aided design. We have completed several thousand installations and we will go above and beyond to ensure you're satisfied with the service you receive from quotation to completion. We look forward to helping you with your bespoke bedroom furniture.